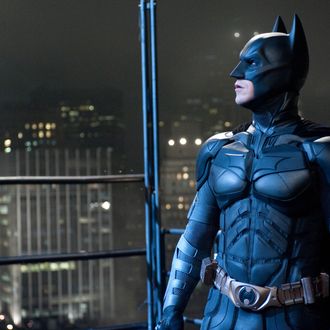 Photo: Ron Phillips/Warner Bros. Entertainment Inc.
After what feels like a lifetime of secrecy, Warner Bros. has released a surprisingly revealing set of production notes for The Dark Knight Rises. The 49-page PDF doesn't contain spoiler spoilers, but it does contain some not previously released info, plus some snippets of dialogue, like this destined to be meme-ified line from Bane (Tom Hardy): "The shadows betray you because they belong to me." Oooh, Bane-y!
According to the packet, Anne Hathaway's Cat Woman makes her move on Batman during a Harvey Dent Day celebration, and at some point Selina and Bruce share this exchange:

Selina: My mother warned me about getting into cars with strangers.
Bruce: This isn't a car.
We can feel the skin-tight outfits from here. TDKR also features a new vehicle called the Bat, which is Batman's new "state-of-the-art airborne machine," as well as the Bat Bunker, which temporarily replaces Bruce Wayne's destroyed Bat Cave.
The most interesting part of the whole production document, though, is that Anne Hathaway's official press-release bio still includes high school achievements: "She performed in two concerts at Carnegie Hall as a member of the All-Eastern US High School Honors Chorus." You're a famous movie star, Anne. You don't need to flesh out your résumé like that anymore.