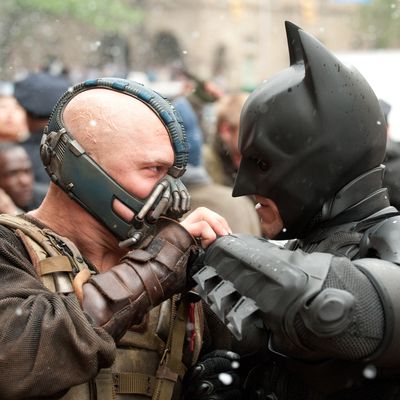 Photo: Ron Phillips/Warner Bros. Entertainment Inc. and Legendary Pictures Funding LLC
This Weekend's Winners: The Dark Knight Rises fell 60 percent in its second weekend, making it champ (No. 1 with $64.1 million), though it is still pacing behind its 2008 predecessor by some $25 million.
This Weekend's Losers: Both The Watch (No. 3 with $13 million, behind the three-week-old Ice Age: Continental Drift) and Step Up Revolution (No. 4 with $11.8 million) proved unwatched and unrevolutionary. Overall box office suffered, too, down 25 percent compared with the same cowboy, alien, and Smurf-powered weekend last year.
How It All Went Down: There are two ways to look at this past weekend's box-office results. The first is that the appalling crime headlines of recent weeks and months finally caught up with their respective films: After all, not only was this the weekend after The Dark Knight Rises opened with the utterly wrong kind of bang, but also the weekend when the colorlessly named The Watch (né Neighborhood Watch) finally hit theaters, some thirteen weeks after Fox decided that the Ben Stiller comedy couldn't possibly retain its title following the death of Trayvon Martin last February.
Early on in the weekend, there was plenty of angst about whether or not still-wary audiences would steer clear of The Dark Knight Rises: By the end of Friday night, horrified Warner Bros. execs saw their quarter-billion-dollar film lose more than three fourths of its massive audience from its previous opening Friday. Was fear that another Aurora could be just around the corner really keeping people at bay?
Perhaps, but this brings us to the other way to look at the box office, which is: The summer Olympics are with us once more, and NBC's decision to air them mostly tape-delayed in prime time paid off in a Nielsen ratings bonanza. It started with a spectacle worthy of the cinema itself — director Danny Boyle's opening ceremonies, which some 40.7 million viewers tuned in to watch on Friday night, boosting viewership by 17 percent over Beijing four years prior. (Indeed, NBC suits hadn't seen numbers like this since the Olympics came to Atlanta, when Bubba still occupied the White House.)
Saturday, too, saw similarly high levels of Olympic viewership. Some 28.7 million of us tuned in, which is all by itself a new high water mark, powered (appropriately) by intense interest in Michael Phelps's first step in possibly repeating his record eight gold medals. But thankfully for The Dark Knight Rises, Saturday ticket sales leapt upwards by 44 percent over the night before, to $25 million. And then, Sunday clocked in with a solid estimated $21.1 million. Whew!
Meanwhile, The Watch was not only unloved (it pulled a C+ CinemaScore), but also largely unattended — except by a largely over-25 (60 percent) and dude-rich (59 percent) crowd who turned up to watch its cavalcade of dick jokes.
Finally, if you needed any further proof that the bloom is off the rose on the Step Up franchise, Step Up Revolution had the lowest debut of any film in the franchise, and half of what the original made a half-dozen years ago. Clearly, Disney stepped off while the steppin' was good, as this marks the first film entirely co-financed by Lionsgate acquisition Summit Entertainment — and, likely, the first step toward what will be the beginning of the inevitable, unavoidably tragic Step Up straight-to-video phase.