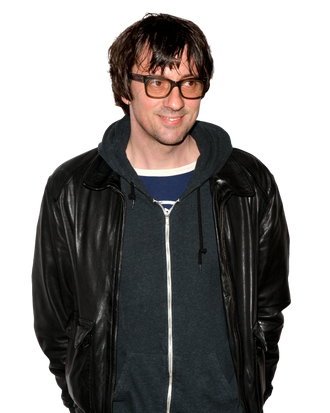 Graham Coxon.
Photo: Ben Pruchnie/Getty Images
Last Monday, the four members of Blur convened on a London rooftop to debut "Under the Westway" and "The Puritan," their first new songs in two years. Written for the band's headlining set at next month's Olympics closing ceremony, "Westway" (a sad, gorgeous, Kinks-style ballad) and "Puritan" (a fast, fuzzy track that could've just as easily been by Gorillaz) further stoked the demand for a new full-length Blur album, which would be the first since 2003's Think Tank. Should you get your hopes up? We spoke with Blur guitarist Graham Coxon, who personally seems into the idea.
Hi, Graham. How are you?
I'm all right. I'm just sweeping the kitchen floor. It's a rather chaotic day. I'm in East Kent, not in London today. I'm doing a lot of man work in the countryside.
How did these two new songs come about?
We thought it would be good to have something for the special events going on this summer. Damon had a little demo, and then we listened to it and went into the studio. We just started bashing it around until we were all happy. There were no producers on this one, so it was kinda up to us.
Were "Under the Westway" and "The Puritan" the only two songs you attempted? Or were there other tracks the band just decided not to release?
No, this is it.
How is the band getting along these days?
We get on really well. In 2009, it was still kind of worrying. We hadn't been in the studio; it was purely a live thing. I still felt slightly anxious about being with my old friends, and have we all really forgiven each other for this? And we'd all pretty much forgotten what it was. But that helped us realize that we can just be completely ourselves. And it's really bad when you get self-conscious with a group of people, and you imagine that what you're playing onto tape everyone is thinking, Oh, this is crap; this is isn't working; oh my God, what a disaster. But there's none of that, really, so it's nice.
Plans for a new Blur album seem up in the air at the moment.
Up in the air, yeah.
What would you say is the biggest obstacle to the band recording a new album?
I don't know. Maybe it's time or the guts or pressing the fucking button and going, "Come on, let's just bloody do it." It's maybe the committing to it. It's a frightening thought, because there's kind of a pressure on us to record another one, and of course we quite like the idea. But what's stopping us is the pressure. People are saying they want [an album], and that's making us panic. We like to create our stuff in a relaxed way. It's no good trying to force stuff just because people want to hear it. It would be a big decision. Because we know what'd be coming after the recording: We'd have to do a lot of traveling and playing. Which is great fun, but it's a big commitment, obviously. 
Who's the holdout? Which band member is the hardest to convince? It sounds like you're into the idea.
I tell you what — we're all into the idea. There's nothing wrong with the idea, it's just the practicalities that get slightly scary. And if we do something, it's got to be really good.
If you decided against an album, would you consider just releasing singles or EPs?
I think that's probably not a very good idea, to keep doing that. I'm old-fashioned. I like an album to be a big slice of a time and place, and have a lot of development of ideas. These singles were recorded pretty quickly — too quickly for my liking — and I still get worried. I still come up with ideas for stuff after it's released. Taking our time on an album, that's what I would like to do. I'd be really into making a record, but [sighs]. If people leave us alone to do it, I think it would be cool.
Blur was in the studio a few months ago with William Orbit for a session that ended acrimoniously, at least according to his tweets. What happened?
We had a go at "Under the Westway." And we just didn't like the way it turned out. We were just like, "Shit, this is not what we're after." And we decided to go it alone.
What did it sound like?
I don't know. [Laughs.] I don't know what it sounded like, really. I didn't hear it.
You guys are headlining the closing ceremony for the London Olympics. What can we expect from your set?
Well, there are certain things that we're expected to play — a few pop hits and things like that. And there's a group of songs that we want to play, album tracks. I'd like to play a different set from the last time in Hyde Park. Obviously, there's two new songs. Sing along to "Under the Westway." We're going to hand out hymn sheets. It will be a lot of fun. 
I think I have a handle on the meaning of "Under the Westway," but can you tell me what "The Puritan" is about?
Oh God. That's all Damon. No, no idea. It has sort of a vague quality to it. I kind of like the lyrics even though I don't know what Damon's meaning is. But you get the gist. I think it's all pretty culturally negative. Pessimistic.
What are the chances that Blur will ever play in the U.S. again? In fact, forget the rest of America, how about just a New York show?
I'd love to play in New York. I'm coming over there with my band soon. But yeah, we'd love to play over there. 
You're opening for Noel Gallagher in the fall. How did that happen?
He kind of asked me to do it. And I was like, Wow, that's kind of nice. And it'll be good, 'cause they're big shows, and no one will like us that much, but it means we get to play early for short sets and then watch Noel.