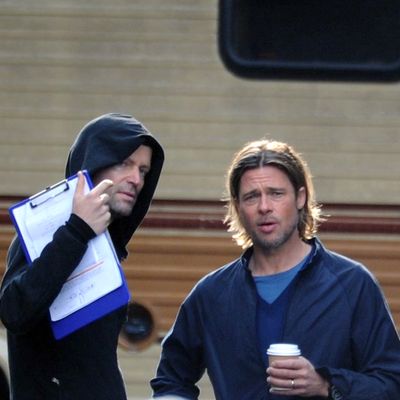 Marc Forster and Brad Pitt on the set of World War Z in earlier, more communicative times.
Photo: SWNS / Splash News
The horde of zombies in Paramount Pictures' World War Z aren't the only ones ravenous for brains: So is the troubled blockbuster's star and producer, Brad Pitt, who Vulture hears exclusively from multiple production sources has become so frustrated with the film's director, Marc Forster, that he stopped speaking to him altogether as the production heads into at least three weeks of reshoots.
Things got so bad that when Forster had notes on a scene for Pitt, they had to be relayed through an intermediary — and vice versa. We're told that this awkward function was and is being largely fulfilled by a rotating trio of studio production president Marc Evans, Paramount film group head Adam Goodman, and Dede Gardner, a former executive at the studio who now runs Pitt's company. And all this as the production crests $170 million as it heads into its costly reshoots, with an ending that is still in flux. (A representative for Creative Artists Agency, which represents both Pitt and Forster, declined to comment. Calls to Paramount were not returned by deadline.)
Ironically, Pitt, whose company, Plan B, is producing World War Z, originally fought for Forster to be given the director's chair on World War Z. The studio was wary, because his only other big-budget action film was Quantum of Solace, the 2008 James Bond film that proved a notoriously difficult shoot; this was due to the rush to beat the clock on a looming 2007 Writers Guild of America strike, but sources say that problems were also partly a result of Forster having never shot a big-budget action movie before. Pitt was able to get Forster on the project, no doubt because of his history with Paramount chairman Brad Grey, who not only used to be his manager, but also was a partner in Plan B.
And now the zombie-apocalypse film seems to be plagued by a similar combination of scheduling, script, and directorial problems. The film was rushed into production in July 2011 in order to make a Christmas 2012 release date, even though the script wasn't entirely ready. This speed proved for naught, as when both Paramount execs and Pitt became unhappy with how some of the big action set pieces were turning out, especially one at the end of the film that wasn't cutting together properly, the studio decided to bump the film's release until June of 2013. And in May, it was announced that Z would be returning to Budapest to shoot several weeks of additional material as well as reshoot some original scenes.
Now Paramount is trying to decide whether to just try to fix what they have or get writers to completely re-envision the film's finale. "The studio is cultivating multiple options," explains one of our production spies. "One is to try scrapping [the ending] and trying something different: They want to construct an entirely new ending to the movie. The other is to try salvaging it, because decent action can be elevated, and even shitty action can be saved. This is not an unmitigated disaster; it is salvageable."
Last month, Lost exec producer and Prometheus scriptwriter Damon Lindelof was brought in to watch the movie and make suggestions to Paramount on what fixes were needed. "Body and fender work," as it's known in the talent agency business, is a common enough practice: A boldface-name screenwriter is brought in, makes notes, and suggests changes that are usually fixed with a few days of reshoots or additional production. 
Problem is, sources tell us that Lindelof said the script needed months of work, not days — something he didn't have time for — and changes were needed throughout the film, not just at the end. He did agree to work with his former Lost colleague Drew Goddard (Cloverfield, Cabin in the Woods) for the better part of a month to come up with framework script solutions. The studio is also reaching out to other writers, including Christopher McQuarrie, who did on-set rewrites for Paramount's Mission: Impossible – Ghost Protocol. (Though he may be too busy: He's directing Tom Cruise's Jack Reacher for the studio, which bumped that movie up to take Z's old Christmas slot.) 
Production sources tell Vulture that it is Pitt, not Forster, who has final approval over all the new pages generated by whatever writers work on the project over the next three weeks. And the communication breakdown between actor and director over how to reshoot it severely limits Paramount's ability to foresee an end to production. Until the pages are approved, a budget cannot be calculated. And until a budget is tallied, the amount of time that will be spent to make the changes can't be determined, either.
Meanwhile, another source inside World War Z adds that whatever happens with the script, additional — and possibly outside — directing help is likely to be sought for the action sequences that will need to be reshot. "They have to be careful, because the DGA has strict rules that say Forster has to be there on the set," says this source, "But someone is likely to be brought in to help direct the new action scenes."
All of this suggests some eventful weeks to come, but for now, the studio is, uh, dead quiet about what to do about the eerily "silent" partnership between Pitt and Forster.