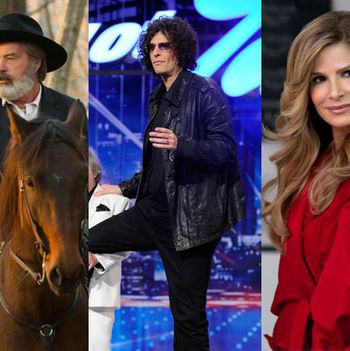 The summer TV season kicked off this year with a literal bang: History's Hatfields & McCoys, airing Memorial Day week, generated jaw-dropping Nielsen numbers and demonstrated once more that viewers don't take a vacation from the small thing just because Nielsen says the official ratings race is over. Nothing since H&M has proven to be juggernaut-worthy, either on cable or broadcast, but a few interesting trends have emerged. Much like a kid burrowing deep into a sandy beach, Vulture decided to dig deep into the summer-to-date ratings to find out just how all the major players are faring during the Days of Shorts and Sunburns.
Below, we present seven of the most interesting things we discovered during our summer ratings vacation. By the way, we set up a few ground rules for our Nielsen excavation — most important, deciding to focus on reality shows for the broadcasters and scripted series for the cablers. That's because there are hardly any first-run scripted shows on the networks between June and September, while the biggest of the big cable nets (such as USA and TNT) still tend to program more original dramas and comedies in summer than other parts of the year. We also ignored pay networks HBO and Showtime, because they're not ad-supported and tend to spread their programs more evenly throughout the year. Now that we've got all that out of the way …
Hatfields & McCoys: It's High School Musical for Adults
Okay, Kevin Costner didn't do any dancing in History's megaminiseries. But the six-hour event was nothing short of monstrous, dominating its three nights in May like pretty much nothing else in cable history. And final numbers reveal H&M was even bigger than first thought. Initial Nielsen ratings indicated night three of the event drew 14.3 million viewers, putting it just behind Disney Channel's High School Musical (17.2 million) as cable's top entertainment broadcast ever. But according to final data incorporating a full seven days of DVR viewership, History's warring clans actually attracted a jaw-dropping 17.9 million viewers with its finale, making it cable's biggest thing ever. Not only that, but not a single non-sports telecast on broadcast so far this summer has surpassed the History mini. And if you took all six hours of H&M and averaged the overall tune-in, the event would rank as the No. 5 entertainment series on all of TV for the 2011–12 season. Dang nab it!
By the way, we're sticking by our assertion that H&M skewed old, because, well, it did: A single June 12 episode of MTV's Teen Mom attracted more adults under 35 than did the first night of the History mini. But, it's also true that many younger viewers ended up watching Costner & Co. via DVR. While recorded viewing boosted H&M's overall audience by about 25 percent, in the under 50 demo, DVRs lifted the mini by almost 40 percent.
Howard Stern Hasn't Given AGT a Major Boost, But the Show Still Dominates …
The King of All Media will be happy to know that America's Got Talent has not ceded its position as the No. 1 network show of the summer since he joined. With over 11.5 million viewers watching an average episode, NBC's summer "talent" showcase towers over reality rivals such as The Bachelor and So You Think You Can Dance in overall audience, and is maintaining a smaller lead among those under 50. But in a bit of a surprise (at least to us), Stern's addition has not resulted in a ratings bump for the show. In fact, in younger demos, AGT is actually down nearly 20 percent versus this time last summer.
NBC insiders note that year-to-year comparisons are a bit unfair, since last summer, the first few weeks of AGT aired at the same time as the first season of the red-hot The Voice; what's more, the network debuted AGT a bit earlier this year, which meant early episodes had to compete against season finales and such. If you compare AGT's ratings this summer to its numbers in 2010 and 2009, they're almost identical. Of course, this means that the best case to be made for the expensive decision to reboot AGT with Stern is that hiring him prevented ratings from falling even further. Our take? AGT has a loyal audience that comes mainly for the onstage freak show, and no matter how good or bad, the judges are of secondary importance.
Meanwhile, it's pretty much status quo for summer's other returning reality staples. Shows such as The Bachelorette, Big Brother, and Gordon Ramsay's Good-Time Cooking Hours are all doing about what they did last summer, give or take a few percentage points.
New Reality Shows on the Networks Have All Bombed
Broadcasters have made a big push to introduce new unscripted series this summer, but so far, viewers just aren't interested. Fox reality president Mike Darnell was super-stoked when he announced plans to tweak NBC's The Voice by working in that show's giant revolving chairs into dating show The Choice; viewers, however, simply yawned. Both shows have averaged fewer than 4 million viewers on Thursdays; among those under 50, both shows have been losing handily to repeats on CBS. Also tanking on Thursdays: ABC's Duets, which has quietly featured some excellent commentary from judges such as Kelly Clarkson but has failed to generate much of a pulse. Ditto another ABC newcomer, The Glass House, which got lots of media attention because CBS complained it was a rip-off of Big Brother. What it didn't get, despite a primo time slot behind Bachelorette: viewers. As for CBS, its sole newcomer this summer has been The Dog Whisperer Dogs in the City. Its 5.5 million audience wasn't shaggy, but it skewed old and didn't generate much buzz. Finally, NBC's Love in the Wild is technically not new (it's in its second season), but since it didn't establish much of an audience last year, we're including it here, just so we can say that it, too, has bombed with viewers.
Repeats? What Is This Thing You Speak Of?
If you study Nielsen's list of the top twenty broadcast shows so far this summer, you'll find half the list is made up of repeats of live-action comedies and dramas, and almost all are from CBS, including NCIS, The Big Bang Theory, NCIS: Los Angeles, The Mentalist, and Criminal Minds. But that's among all viewers, old and young. Eliminate kids and anyone over 34, and suddenly the encores almost all disappear. Just one repeat (Family Guy) makes the list of top ten summer shows for those under 35, while you've got to go all the way to around the No. 40 spot to find a drama repeat (Person of Interest). Clearly the young folks of America have made peace with DVRs and binge viewing, while our nation's elders subscribe to the maxim once articulated by the philosopher Littlefield: "If you haven't seen it, it's new to you!"
Summertime, and the Livin's (Not So) Easy for USA
The NBCUniversal-owned cable network has owned summer for the better part of a decade, dominating cable's warm weather ratings race by unleashing a seemingly endless array of easy-to-digest hit dramedies. The network's so-called "blue skies" programming strategy led to record Nielsen numbers last summer, with seven shows each averaging at least 5 million viewers each week. No wonder, then, that rival nets were slack-jawed Monday when ratings came in for Political Animals: What was supposed to be USA's latest success story ended up drawing just 2.6 million viewers. That number will go up once DVR data is factored in, but even then, the show will end up being one of the least-watched USA premieres in nearly a decade. What's more, even before PA landed with a thud, USA's prime-time ratings were already trending down by double digits versus last summer's record pace, with several veteran series experiencing notable year-to-year declines. Overall, USA has fallen behind rivals such as History and TNT in the summer-to-date prime-time ratings race for adults under 50. 
And yet, it would be a mistake to declare USA's blue skies have suddenly turned gray. For one thing, USA still has more mass-appeal scripted hits than any other basic cable network, with five of the ten most-watched weekly basic cable series this summer. It's also still relatively early in the summer season for USA, with many of its shows having only aired three or four episodes (compared to the five or six episodes some shows on A&E and TNT have aired). Insiders at the network are also confident that USA will still end up as basic cable's biggest network by the time summer ends, once the glow of Hatfields wears off and some of TNT's hot debuts fall back to earth. (A plan to add an extra hour of the highly rated WWE franchise to USA's lineup should help the effort as well.) That said, it's unlikely USA will match last summer's record pace and that the network's programmers will need to step up their efforts to find new hits to keep up with the increasingly fierce competition from other cable nets.
So Other Cablers Have Stepped Up Their Scripted Games
USA's biggest foe in the battle for eyeballs, as always, is TNT. The Turner network is hardly a newcomer to the scripted arena: It's long boasted your grandmother's favorite cable show of all time, The Closer. But after playing second fiddle to USA during the summer in recent years, it's stormed out of the gate this year with the two most-watched cable drama premieres (Dallas and Perception) and the top four series of the summer so far (Closer, Rizzoli & Isles, and the aforementioned newbies). It's even managed to shed its CBS Lite rep with Falling Skies, the sci-fi thriller that, for now at least, stands as the No. 1 scripted drama on basic cable among adults under 50. Still, some of TNT's success so far has been about timing. Dallas, for example, opened with a bang, attracting nearly 7 million viewers its first night; by last week, it had shed nearly half of that tune-in, attracting just 3.6 million viewers with its July 11 episode. (Its numbers will certainly rise once DVR viewing is factored in, but the downward trend is unlikely to be erased by recorded viewership). 
It's not just TNT that's giving USA trouble this summer, however. Take a gander at the list of the ten biggest scripted series on cable this summer in the key demo of adults 18 to 49, and right there at No. 7, just ahead of established cable heavyweights Royal Pains and Burn Notice, is an unexpected entry: Pretty Little Liars, the teen soap from ABC Effing Family. You'll also find Lifetime's Army Wives in the top ten with younger viewers, while A&E, heretofore known almost exclusively for its reality fare, has one of the ten most-watched scripted series on cable with its brand-new Sunday hour Longmire. Big guns such as TNT and USA are also increasingly being nibbled at from the margins, with smaller networks stealing away eyeballs with scripted shows that will never land in the top ten but do well enough in certain key demos to have an impact. MTV's Teen Wolf, for example, is drawing more viewers under 50 than USA's Political Animals; one recent episode attracted nearly one million viewers in the ad-friendly demo, putting it within spitting distance of major cable dramas like The Closer in the under-50 demo.
FX, meanwhile, continues to do well with its male-friendly Thursday night comedies. While the much-hyped Anger Management has shed more than half of its debut audience (falling from 5.5 million viewers premiere night to 2.4 million last week), if the show stabilizes in coming weeks, it will still rank among basic cable's biggest comedy draws. And perhaps more important, Wilfred and Louie continue to be big hits in the demo FX is targeting on Thursdays, men under 35. Also filling a comedy niche on Thursdays: TBS, where newbie Men at Work has proven to be a solid companion for the network's ridiculously high-rated reruns of The Big Bang Theory, drawing more than 2.5 million viewers each week.
While we're talking about competition, it's worth pointing out that another headache for cable networks programming expensive scripted dramas and comedies is the fact that those signature shows are, in some cases, getting their clocks cleaned by much cheaper reality fare on other cable nets, at least in overnight ratings. This is particularly true with younger viewers: Shows such as Pawn Stars, Tosh.0, Storage Wars, Keeping Up With the Kardashians, Teen Mom, Love and Hip Hop: Atlanta, and Real Housewives of New Jersey all regularly do better among those under 35 than the dramas on TNT and USA. Even seemingly minor reality shows are having an impact. This past Monday, the second episode of TNT's Perception averaged an okay 0.6 rating with viewers ages 18 to 34. But amazingly, TNT sister network Tru TV drew one third more viewers in the 18 to 34 demo (0.9 rating) airing something called Lizard Lick Towing in the same 10 p.m. slot. The good news for cablers who've invested in scripted shows is that while reality shows can dominate same-night viewing, once you add in folks who time-shift via DVR, scripted series often end up luring more viewers than the unscripted shows.
And Yet, Not All Cable Networks Are Having Success With Scripted Fare
Remember two summers ago, when TV Land made a big splash with its left-field comedy hit Hot in Cleveland? Well, it's not so hot in TV Land anymore. Not only has Hot cooled considerably, averaging under 2 million same-day viewers per episode when, in 2010, 3 million viewers was common, but the network's follow-up comedies have flopped. Retired at 35, without the benefit of a Hot lead-in, this summer has collapsed, averaging under 500,000 viewers with one episode earlier this month. Returning comedy The Exes has done similarly poor numbers on Wednesdays, dropping to under 800,000 viewers the past two week (down nearly 20 percent from last season), while after a healthy debut, companion comedy The Soul Man has lost half its premiere audience and is now drawing under one million viewers. Meanwhile, even though ABC Family's Pretty Little Liars remains a demo dynamo, the network's Secret Life of the American Teenager has been drawing sharply lower tune-in this summer, while newcomer Bunheads has struggled to find an audience.