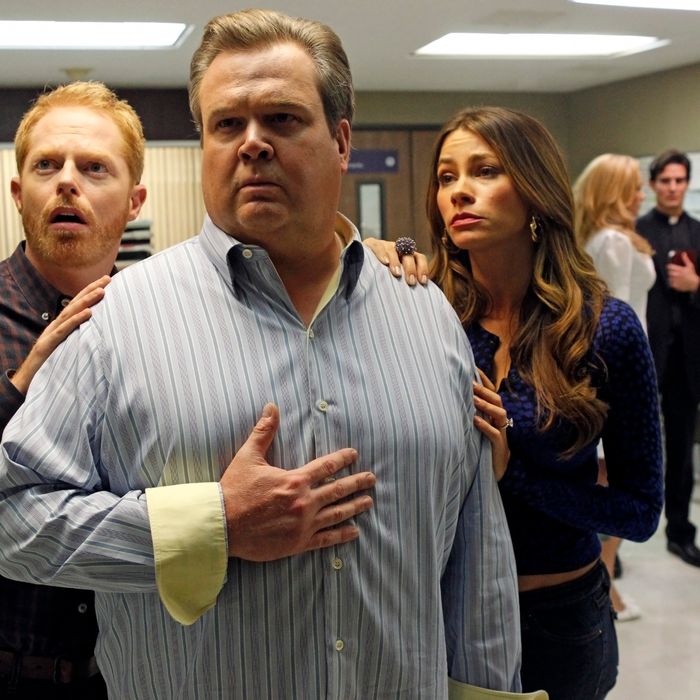 Photo: Peter "Hopper" Stone/ABC
A lot of TV fans were happy about today's Emmy nominations, including us here at Vulture HQ. So many good shows getting big kudos! But for some who work at the big broadcast networks, the initial assessment of which shows got honored was a bit less enthusiastic. Emmy voters dissed the works of ABC, CBS, NBC, and Fox in spectacular fashion, shutting out the Big Four in the best drama series category, and virtually ignoring them in the drama acting categories. And while monster hits Modern Family and The Big Bang Theory got healthy Emmy love, the comedy categories were also heavy on shows with relatively small audiences (30 Rock, Parks and Recreation). How small did Emmy go? If you combined the same-day audiences for all six nominated series in the best drama category this year, you'd still have fewer viewers than watched a typical episode of CBS's NCIS.
No wonder several network suits we rang up Thursday were quick to lament the increasing niche-ification of Emmy — and predict a viewer revolt when the kudocast airs on ABC in September. "My first reaction was, 'This could be the lowest-rated Emmys ever,'" one network veteran told Vulture. "It made me think of the year before [1997's] Titanic, when indie films co-opted the Academy Awards and the ratings plunged."
The Emmy ratings are a one-night problem for one network, of course. And while there are many very small shows with very small audiences in the running, the TV Academy at least had the good sense to give tons of nominations to History's Hatfields and McCoys, which drew over 17 million viewers and will at least make the normally dull-as-dirt movies and minis categories reasonably exciting. (Plus, a bonus for Emmy-night partygoers: a History base featuring vittles and fiddle music!) ABC can also counter the low star-wattage for this year's nominees by making this year's show the Modern Family Emmys, using its massively popular (and heavily nominated) TV family to lure viewers mystified over why they missed the fact that Joe Biden was starring in an HBO comedy. Host Jimmy Kimmel could also make a big difference: He's proven adept at convincing his celebrity pals to come out and play with him, and there's no reason to think he won't be able to enlist them to help liven up September's proceedings.
But what about the notion that Emmys are increasingly only for smaller shows, and cable ones at that? Sure, a couple of very big series got showered with Emmy love — Modern Family, The Big Bang Theory, Saturday Night Live — but overall, the most honored nominees were more likely to be found on critics' top ten lists than on Nielsen's top ten. Or twenty. Or 40. That's left no room for shows that in past years very likely would've gotten at least a modest amount of Emmy notice: Community, The Middle, Person of Interest, Happy Endings, Smash. (And yes, we know: Some of those shows are modestly rated by network standards. But compared to what did get nominated, they're practically megahits.) "It's certainly become crystal clear that there's a complete bifurcation between popular shows and prestige shows," one network programmer vented to Vulture. "It's unfortunate, because it suggests you can't do 22 episodes and be considered a quality show anymore, which is bullshit."
Another broadcaster says it's not a matter of network shows somehow not being seen as "good enough," but rather that the shows on cable are simply designed to be bigger and more daring, because that's the mandate of the networks on which they air. "We're in a different business," the exec says. "We have restrictions on what we can do and a different business model than cable. We have to do 22 episodes; they do 13 [or in the case of HBO, 10]. The Emmys reward shows which aren't constrained by the broadcast model." Rather than complaining about the TV Academy rightly honoring the very good shows on cable (or PBS), broadcasters should simply demand the chance to play in their own league. "We should have broadcast and cable categories," he says. "It would level the playing field, because there will always be a bias toward short-order series that push the envelopes, and shows which have movie stars and those who won't do broadcast television."  
It's not as if broadcasters are just waking up to this disparity. A few years ago, the Paley Center for Media began discussions with broadcasters about the notion of launching an alternative Emmys to honor a wider range of programs. For various reasons, the idea didn't take flight — perhaps because, despite their annual lament over being snubbed, most network execs ultimately don't really care whether the shows they produce get Emmy nominations. They'll take the bigger ratings, thank you.