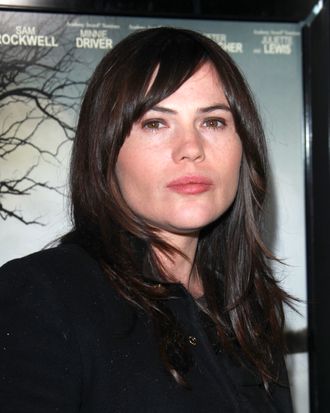 Conviction Los Angeles premiere. Held at the Samuel Goldwyn Theater Academy of Motion Picture Arts and Sciences.
Photo: Jen Lowery / Splash News
Clea DuVall has joined the cast of American Horror Story for this coming season, TV Line reports. It's not clear yet who her character will be, but she'll "appear in scenes" with Sarah Paulson's character. So far we know that the new season will be set in 1964 in a mental hospital for the criminally insane, and that Jessica Lange will play a nun, Joseph Fiennes will play her love interest, Zachary Quinto her antagonist, James Cromwell will play a doctor, Chloë Sevigny will play a nymphomaniac, Adam Levine will play a "lover," and that Lily Rabe, Sarah Paulson, and Evan Peters will all appear in some capacity. Just writing out that list makes us want to weep and be kinky, AHS's two favorite things.