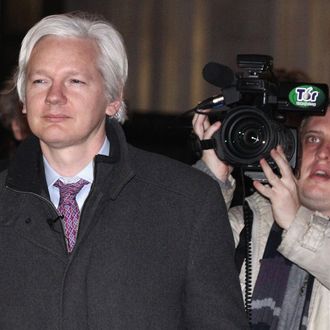 Julian Assange.
Photo: Oli Scarff/Getty Images
Not that we as a people are super accustomed to waiting for the dust to settle before inhaling our Hollywood versions of newsworthy lives (The Social Network, Oliver Stone's W., Casey Affleck's upcoming Josh Hamilton film), but production on the triply dueling WikiLeaks films is proving patience-worthy. Though little has popped up about the films since early 2011, The Wall Street Journal reports the projects being developed by HBO, Dreamworks, and Universal are all treading carefully. "As the studios have learned, nailing Mr. Assange's narrative is no easy feat," writes the WSJ. "The events so far are complicated and subject to debate. And much of the narrative remains unwritten."
Waiting on facts like how Assange will fare in his trials in Sweden (or when he'll get to Sweden, as he's currently holed up in the Ecudorean Embassy in London) and whether or not he'll face American charges as well, here's how the ending-less films are faring:
• HBO: Based on a New Yorker story about Assange, this one has hired Charles Ferguson (Inside Job, No End in Sight) as its director. Other than that, nada. In development, not shooting.
• Dreamworks: Tapped a writer Josh Singer (The West Wing, Fringe, Lie to Me) and is now waiting to see how things go down with Assange. "If you're going to invest in this story, you've got to have a satisfying ending," says DreamWorks president of production Holly Bario.
• Universal: Nearly finished with a documentary by Alex Gibney (Enron: The Smartest Guys in the Room, Freakonomics); confident the doc is compelling and important even without the full real-life ending.