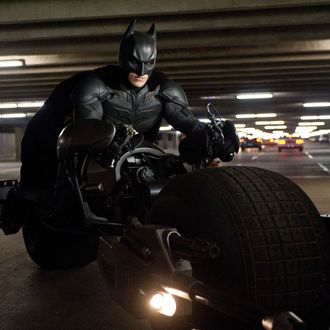 CHRISTIAN BALE as Batman in Warner Bros. Pictures' and Legendary Pictures' action thriller "THE DARK KNIGHT RISES," a Warner Bros. Pictures release.
Photo: Ron Phillips/Warner Bros. Entertainment
With many people choosing to stay home and watch the Olympics, this weekend — usually one of the summer's highest grossing — was a bit of a bummer for the box office. Still, The Dark Knight Rises took in $64 million in North America, bringing its cumulative haul to $289 million — and that's despite the public uneasiness about the movie in the wake of the Aurora shooting. Meanwhile, its closest competitor, the three-week-old Ice Age 4, earned only $13.3 million. Fox's The Watch and Lionsgate's Step Up Revolution, both of which premiered this weekend, didn't fare much better, bringing in $13 million and $11.8 million, respectively.