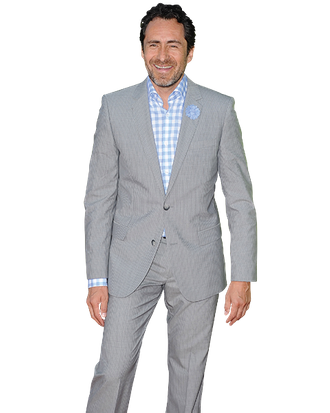 Demian Bichir.
Photo: Joe Klamar/AFP/GettyImages
Demián Bichir, who was nominated for an Oscar for his portrayal of an undocumented-immigrant gardener in A Better Life, represents the less savage side of the drug trade in Oliver Stone's adaptation of Don Winslow's crime novel Savages. While it's all in a day's work for other characters to steal, kidnap, and kill, Bichir's character Alex — a lawyer for the Baja Cartel — classes up the joint by treating everyone in a civilized manner, even if there's no room for negotiation in his client's demands. Though obviously, Alex wouldn't be taken seriously if it weren't for Lado, the cartel's enforcer, played by Bichir's friend Benicio del Toro, who is always eager to get his hands dirty. Bichir, who previously worked with Del Toro in Che, chatted with Vulture about legalizing drugs, gifting tequila, and what his next Del Toro team-up could be.
When director Chris Weitz called you in to talk about A Better Life, you were momentarily confused, thinking he was proposing the part of a vampire gardener, since he was also doing New Moon at the time. But you nearly have a vampire gardener character in Savages with Lado, considering how he hides his work.
[Laughs.] I'm telling you, that's how crazy filmmaking is. In A Better Life, we're showing you how wonderful gardeners are, and how much they help us all, and in Savages, you have this crazy guy who says he's a gardener and his methods are all bloody. Lado, that's an instant classic right there. He could be a vampire gardener. You know, we could do a vampire gardener film, Benicio and I. We could both do it. Why not? [Laughs.] I'll do it. I'd love to step into that genre, but you need somebody really clever and talented as a director to make sure it's going to fly.   
Maybe Robert Rodriguez could do that one. You should talk to him when you're on set for Machete Kills. You're playing a madman?
I'm jumping into that in the middle of July. I have no idea what I'm playing — I don't think I know more than you do! I've been in communication with Robert, and he's finishing the last touches on the first draft. But it's anything goes with that one. That's a genre that I love. It's such a comic way of telling stories, and it's pretty fascinating. But violence on that scale should only be allowed in fiction. [Laughs.]
Like your torture scene in Savages? How did you prepare for that? It's pretty brutal.
You know it's coming, you're getting ready for it, and when it comes, it's a special day. You're fully concentrated, 120 people are all around you, and it's pretty heavy and hard-core. It's not an easy ride, when you have those types of scenes. You're drained. You're wrecked. But this guy, Alex, he's removed from that side of the business usually. He's the educated arm of the organization. He's elegant. He's talented. He's a lawyer. He brings dignity and redemption to the cartel. And even when he "confesses," the way he protects his family gives him some dignity.
Since this is all about the violence that happens with the drug trade, do you think marijuana should be legalized?
It's definitely an issue that needs to be talked about and brought to the table. They need to debate it, seriously. And I think the urgency of that debate would be ending the violence and seeing what works, if it's possible to end that or not. There are many, many things you need to talk about — legalization, decriminalization, regulation, taxation — but you need to talk. It's like Prohibition, and a lot of people died back then because of the same thing, and in this war against drugs, there are a lot of innocent people dying. The great thing about Savages, the book and the film, is that it talks about whose responsibility this is, because it's not a one-country problem. This is on both sides of the border.
How do you feel about the Supreme Court's recent ruling regarding Arizona's immigration law?
It's great news! It only addresses a tiny piece of the problem, but it is great news. Hopefully it leads to even better news, because you can still be criminalized or stopped for the way you look. That's crazy. Then the next thing you know, anybody who looks Latin or Mexican, we would have to wear something on our arms, an I for Illegal, you know what I mean? It's just crazy. We can't allow that.
At one point, you turned down the part of Khan in the next Star Trek movie, after Benicio turned it down, so you could do your brother's production of Swimming With Sharks in Mexico City …
Who said I turned it down? [Laughs.] I had a great meeting with J.J. [Abrams], but we couldn't do it at this time, because of the play, and I was getting ready for opening night, so I could not leave the project. But I didn't really, I never really got the offer, so how could I say no? [Laughs.] But I hope we work together someday, because I absolutely want to work with J.J.
You gave a bottle of tequila to each of your fellow Best Actor nominees for the Oscars. Did any of them reciprocate?
You know, I just sent another bottle to Benicio, because he's a great tequila lover — I send white tequila, because it's pure when it's silver. It's pretty much the purest form of agave. But you don't give gifts to get gifts, and pretty much what I got from them is really, really great — warmth and affection and the chance to mingle and share points of view. Although Jean Dujardin, he did send me a bottle of Champagne, which was very nice of him. All the other guys were really grateful, too. Brad [Pitt] told me that he almost finished the whole bottle while watching the Super Bowl. I think he was joking!