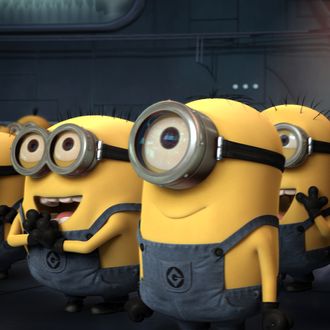 Gru's minions (voiced by JEMAINE CLEMENT) wait for their orders in Universal Pictures and Illumination Entertainment's inaugural 3-D CGI feature, "Despicable Me". The film tells the story of one of the world?s greatest super-villains, who has just met his greatest challenge in three little girls.
Photo: Universal Pictures and Illumination Entertainment
There's already a Despicable Me sequel that's scheduled to come out in 2013, and now it seems there's a third Despicable movie in the pipeline; this one would focus on the little yellow capsule-shaped guys who speak in semi-gibberish — "minions," for those in the know. According to the Wrap, the minions movie is scheduled for release in 2014, so brace yourselves for an onslaught of banana tie-ins.