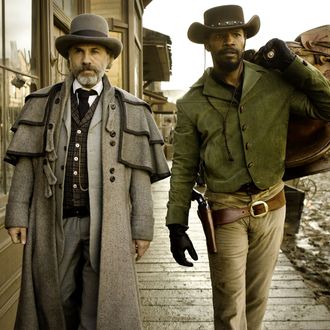 Photo: Andrew Cooper/? 2012 The Weinstein Company
Several members of the sprawling Django Unchained cast made their way to Comic-Con today for the slave western's Hall H panel, including stars Jamie Foxx and Kerry Washington. But as you'd expect, the biggest star on the dais was director Quentin Tarantino. After Tarantino showed the same eight-minute sizzle reel that the Weinsteins had screened at Cannes, fans asked the director whether he was still planning to make a Kill Bill 3 (he seemed lukewarm about it, but allowed, "We'll see"), what had happened to the hard-to-cast Django role that both Jonah Hill and Sacha Baron Cohen dropped out of (they excised it from the movie, though Hill just filmed another part as a pre-Klansman), and if his Django characters might be related to anyone else from the Tarantinoverse.
On that last matter, Tarantino teased that there is a secret connection, though it's not to any of his own movies, and it's implied by the unusual name of Washington's character, Brunhilda Von Shaft. "Her and Django will eventually have a baby, and then that baby will have a baby, and that baby will have a baby, and that baby will have a baby, and that baby will have a baby … and one of these days, John Shaft will be born," Tarantino said, gesturing excitedly to Washington and Foxx. "John Shaft started with this lady here and this man here! They're the great-great-great-grandparents of 'Shut your mouth!'" At which point Foxx crooned the Shaft theme song. Can you dig it?