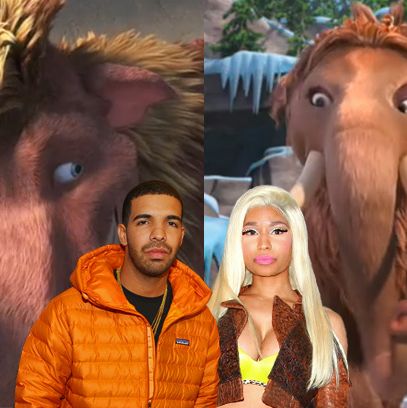 Photo: Twentieth Century Fox/Getty
Vulture doesn't typically spend a lot of time covering the threequels to animated children's series, but we do spend an extraordinary amount of time covering Drake and Nicki Minaj. So when the two rappers were cast as computer-generated wooly mammoths in Ice Age: Continental Drift, we made the movie our business — because surely Drake and Nicki Minaj would bring their tough attitudes and rhymes to voice acting. Finally, a kid's cartoon with swag, Vulture assumed. And so, as not to miss a shred of the lyrical wisdom shared in Ice Age 4, Vulture went to the movie and wrote down every single thing that Drake and Nicki Minaj said. Here are the very edgy results.
Drake:
· That was nice.
· Ah! You did not just do that! That was crazy!
· Nice!
· Yo, that's intense.
· Uhhh, what just happened?
· You have a twin sister?
· Move back a bit. Almost.
· Well that's something you don't see every day.
· I've never seen a mammoth sleep like that.
· Uhh, okay. That's a little weird.
· So, how you doing? You know, with all of this?
· Yeah, I was pretty scared too. I mean, not scared, but like, concerned.
· Hey, do you want to walk with me tomorrow? Try and get our minds off all this stuff?
· Well, you did almost flatten me this morning, so I figure it can't really go any worse than that, right?
· Oh, just one thing: totally no big deal, but you might want to lose the molehog.
· Hey guys, over here! Come on, it's a shortcut!
· You're not really friends with him, are you?
· Whoa, Peaches, don't stress. You're with us now.
· Yo, that was insane.
· I mean, it's bad enough that your family's half-possum …
· We're the same species, genius.
· What's he doing? He's going to get himself killed.
· Hey, okay if we hang with you guys?
Nicki Minaj:
· You go boy!
· It's that weirdo that chills with possums.
· Seriously, that's embarrassing.
· Are you friends with that awkward little rodent or not?
· Come on girls, let's have some fun!
· Too bad your molehog friend isn't here, huh?
· Busted!
· Get it girl! If you're going to stress about something, stress about your hair.
· Come on! I mean, do you really want to back to hanging with a weird molehog freak and give all of this up?
· I always liked him. Louis the hero. Brave-a-licious.