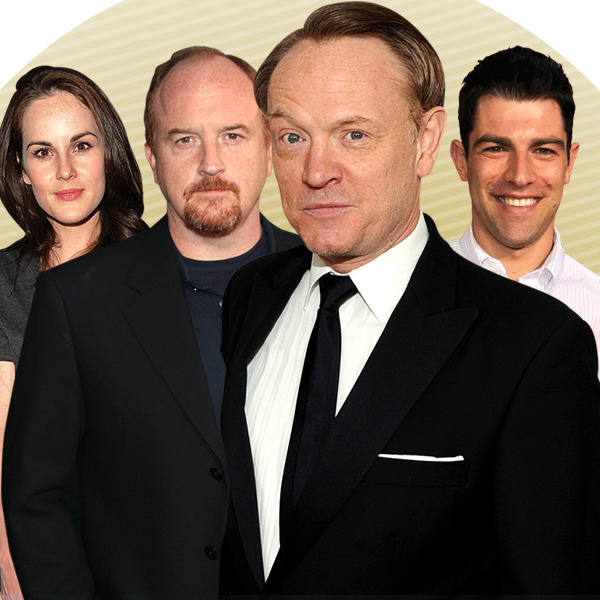 There was a time not too long ago when "Emmy nominations" was synonymous with "head-slapping disappointment." Everything good was ignored, and everything crummy was unfairly heralded! Or so it felt. But times have changed, and this year's nominations are, dare we say it, pretty decent. Let's take a stroll through our many emotions!
Excited
Girls is nominated for best comedy, and creator Lena Dunham is nominated for best actress in a comedy, for directing the season finale "She Did," and for writing the show's pilot.
Relieved
We worried that Community would get shut out completely, but it snagged one (and only one) nomination. Luckily, that nomination was for Chris McKenna for writing the amazing "Remedial Chaos Theory" episode. The outstanding writing for a comedy series category is actually overwhelmingly good this year: the pilot for Girls, "Chaos," Louie's "Pregnant," and Parks and Recreation's "Debate" and "Win, Lose, Or Draw."
Exhausted
Modern Family was nominated as best comedy (a given), all its adult stars were nominated as supporting actors or actresses, Greg Kinnear was nominated for his guest role as Tad, and the show earned two directing noms — except this season was nothing special. Just because a show used to be good doesn't mean it still is. The silver lining, though, is that maybe the MF cast will split the votes, allowing Max Greenfield to swoop in and win. Team Schmidt!
Generally Supportive
Michelle Dockery and Elisabeth Moss both got nominated for best actress in a drama. Yay for them!
Slightly Confused
So Downton Abbey got nominated all over the place. Michelle Dockery is indeed wonderful as Lady Mary, as is Hugh Bonneville as Robert Crawley. Maggie Smith earned a nomination as supporting actress, and so did Joanna Froggatt, who plays Anna. Isn't Anna's role mostly saying "Mistah Beeats"? Speaking of Mr. Bates, Brendan Coyle was nominated for supporting actor, as was Jim Carter, who plays Carson. What about Edith? Sybil? Daisy? When is poor Daisy going to get all the wonderful things she deserves in life?
Slightly Disappointed
Parenthood only earned one lousy nomination, and as much as we love Jason Ritter on the show — so much — he's not the only one who deserves recognition. How many times do we have to say "Mae Whitman" before someone catches on?
Bitter
Parks and Recreation isn't nominated for best comedy, and Amy Poehler is the only cast member nominated. Boo.
A Little Sad, But Not Devastated
John Slattery and Walton Goggins weren't nominated this year for supporting actor in a drama, even though both continued to give very worthy performances. However! Their absences made room for Giancarlo Esposito and Jared Harris, and that softens the blow considerably. Gus! Lane! Argh, don't make us pick!
Grossed Out
That jingoistic "It's Halftime in America" commercial was nominated for best commercial.
In the Mood to Pickle Things
Could Portlandia stage an upset and win best writing for a variety show? Please, Gaia, let that happen.
In the Mood to Ring a Bell
Mark Margolis was nominated as a guest-star for his role as Hector Salamanca on Breaking Bad. He had no lines! And he should definitely win.
In the Mood for Self-Loathing and Ice Cream
Louis C.K. was nominated for seven Emmys today. For Louie, he's nominated for best actor in a comedy for Louie, best directing ("Duckling"), and best writing ("Pregnant"); for his stand-up special, Louis C.K. Live at the Beacon, he's nominated for outstanding special class program, directing a variety special, writing a variety special, and editing a variety special.
Bleak and British
Sherlock was nominated as best miniseries, Benedict Cumberbatch as best lead in a miniseries, Martin Freeman as best supporting actor in a miniseries, plus direction and writing nominations. Yay! That enthusiasm extends to Luther as well, which was nominated for best miniseries and earned Idris Elba another nomination.
Freaked Out
American Horror Story is nominated for best miniseries, and Connie Britton, Jessica Lange, Frances Conroy, and Denis O'Hare all earned acting nominations — okay, sure. The one category where AHS should absolutely win, no matter what, is main title design. The opening credits are the show's scariest, moodiest moments.