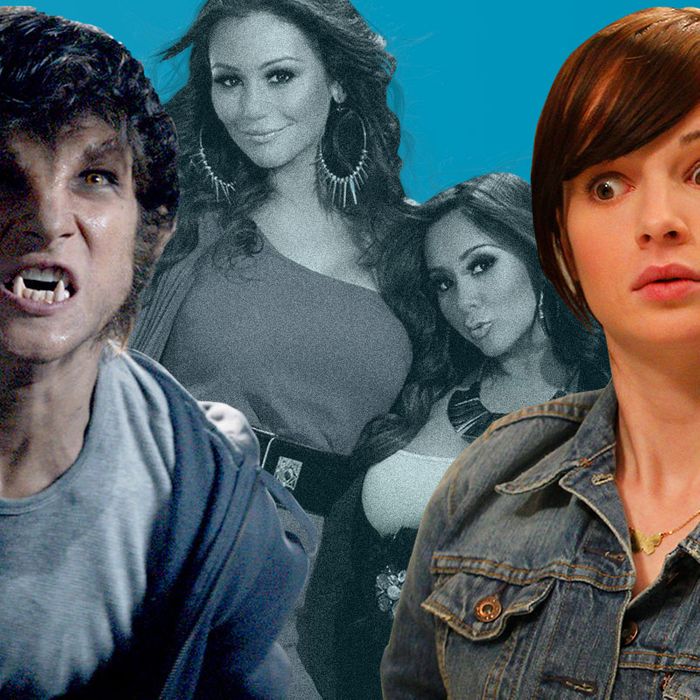 With few exceptions, MTV has always been about the shock value. The more they phased out music, the more they replaced it with shows built to attract parental disgust and editorial tut-tutting, from Beavis and Butt-head, Jackass, and The Osbournes to the spoiled kids on My Super Sweet 16 and The Hills. For every inoffensive win like Punk'd and Newlyweds, along comes a monster hit like Jersey Shore to send them right back into trash mode. But now things really seem to be changing. As Jersey Shore starts to slide from its epic heights, the network is pushing into scripted fare with an unexpected sweetness (and decided lack of salaciousness) in shows like Awkward and Teen Wolf. It's reminiscent of the teen-show Golden Age of the WB, which is no surprise, as MTV programming is now headed by former WB entertainment president David Janollari. Oxymoronically, by focusing on teen shows, MTV may finally be growing up.
When Janollari was hired in January 2010, this wasn't his full strategy. He was tasked with figuring out how to diversify MTV's strict diet of reality shows and produce the kind of high-profile scripted series that have made cable networks like FX and AMC destinations for originals. He bought a couple of risqué shows that seemed to jibe with MTV's subversive brand: Skins, a controversial adaptation of the gritty British series revolving around a group of drug-using, sexually aggressive urban teens; and I Just Want My Pants Back, a less heavy but equally sex-obsessed dramedy about Brooklyn hipsters. The shows opened to big numbers but flamed out quickly, and the extra-racy content may as well have been kryptonite to advertisers. Janollari says he stands by Skins and Pants as "good shows" that helped establish MTV as place for scripted series, but admits they ultimately didn't click with viewers. "I think they were just overwhelmed by all the noise and controversy surrounding them."
Fortunately, he also championed the series reboot of Teen Wolf and purchased Awkward, a hyper, irreverent, modern-day version of My So-Called Life that has charmed the pants off critics. Unlike their outrageous counterparts, these two took off immediately and have seen their ratings grow since. With these shows clicking, Janollari is intent on making more like them. Coming up this fall is Underemployed, a post-grad ensemble drama from Six Feet Under producer Craig Wright about a group of friends working odd jobs just to get by. And on August 20, the network debuts The InBetweeners, a remake of the British comedy following four decidedly uncool suburban boys as they navigate the pains of adolescence. (Even on the reality side, things seem more tame: MTV this year gave the go-ahead to The Heights, which centers on friends in New York City's Washington Heights as they live and work in the tough neighborhood, and WakeBrothers, a buddy comedy about sibling wakeboarders who happen to be ranked first and fourth in the world.)
Janollari is no longer looking to MTV's past hits for inspiration — asked about other scripted series that might work for him, he named ABC Family's Pretty Little Liars first — and that's little wonder, as his network's signature show, Jersey Shore, shows signs of age. Just under 5 million viewers tuned in for March's season five finale; that's still a good number for the network, but a far cry from the 8.8 million who saw Snooki get freed from jail in season three. Its spinoffs aren't showing much life, either. The Pauly D Project barely registered, and Awkward is getting bigger audiences than its lead-in, Snooki & JWOWW. As Janollari maps out MTV's future, he has four main touchstones in mind, which he recently outlined to Vulture in his Santa Monica office.
Twilight and The Hunger Games. Shippers are running the world, and, as evidenced by the long-lasting devotion to these two franchises alone, they're way more likely to get sucked into Jenna's ongoing Matty versus Jake dilemma on Awkward than the big-dick joke of the week on The Hard Times of RJ Berger. Skins might have been applauded by some in theory for its maturity and ambition, but there was no room for the ongoing swoony romances that drive the hits at the box office and on network TV. "Our audience is the audience that built Twilight into a sensation, and Hunger Games, most recently," Janollari said. "They want to root for the ultimate love affair to blossom." So in Teen Wolf, the romance between Allison and her werewolf boyfriend Scott is sexy, scary, and constantly thwarted by her werewolf-hunting family, and Janollari says their fans make Teen Wolf MTV's most-talked-about show when it comes to social media. It also means lots of Scott and Allison GIFs, Tumblrs, and fan-created musical tributes.
Not that MTV is giving up edge and attitude for puppy love. Currently in series contention is a project based on the young-adult novel Cassandra French's Finishing School for Boys, in which a young paralegal decides to "fix" her latest bad date by locking him up in her basement so she can train him to be the perfect gentleman. It's a twisted idea, and yet Janollari promises that viewers will wind up pulling for the couple.
John Hughes. The preeminent voice of teens in the mid-eighties, Hughes plagued his suburban-Chicago teenagers with universal, coming-of-age problems portrayed without the burden of 21st-century irony or fifties earnestness. Awkward creator Lauren Iungerich calls herself a "huge product" of the late filmmaker's movies, and Janollari says he wants the same kinds of honest, funny stories about those transformative years — "figuring out your first love, your first kiss, your first independence from your parents" — set in less rarefied worlds than those of The Hills and Gossip Girl. "We had a lot of success with The Hills, which was glam and Über-real with pretty people," Janollari said. "Those were launched in a different time when that seemed embraceable. The world has changed. The audience seems to be relating to characters who have the same issues and problems they do, who also live in the same world. Underemployed, for example, really tackles the current economic situation."
The parts of Jersey Shore that don't make you cringe. Remember that time when Vinny and Pauly D swapped all the furniture from the outside with the furniture inside? Or when a girl lost her "chicken cutlets" in the jacuzzi? Wasn't that so much better than watching Ronnie and Sammy's 53rd breakup or The Situation being hauled away in an ambulance? Janollari suspects that it wasn't all the squabbling and nightcam smushing that made Jersey Shore a hit. "Our viewers are not looking for the most controversial stuff," he said. "They're not looking for the most sexy or raunchy. Teen Wolf and Awkward prove that, to a degree. There's a loudness to Jersey Shore, but mostly a lot of laughs and an ultimate sweetness."
Broadcast TV. MTV spent its whole life trying to be the anti-network network; thus the vehicles for fringe comics Pauly Shore and Tom Green, and the precursor to Adult Swim, Liquid Television. Now the channel, which turns 31 in August, is looking toward mass-appeal broadcast shows — "We want good scripted programming with relateable and lovable characters," Janollari said — if not the most conventional ones. Take the four weirdos rooming together on Fox's New Girl: They draw an older, broader audience than MTV targets, but "it's a show we've been talking about. How do we do a younger version of it?" And the network is always thinking of ways to keep its music legacy alive, whether in the soundtracks to its shows, or maybe one day with a hit musical series of its own. "I still look at Glee," Janollari said, "and I don't even know where its ratings are now, but I watch that and go, 'That's a show that would be emblematic for us.'" Somewhere, Spencer Pratt is sadly shaking his head.