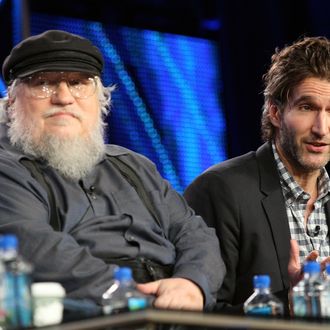 George R.R. Martin.
Photo: Frederick M. Brown/2011 Getty Images
As the moderator of Comic-Con's Game of Thrones panel, series author George R.R. Martin gave a shout-out to the recent Saturday Night Live sketch satirizing the HBO show's frequent nudity and sex scenes. Then he listed all the women Theon Greyjoy has had the pleasure of bedding, and wondered why Theon's portrayer, Alfie Allen, hasn't personally thanked him for it: "Have I even gotten a box of chocolates? What's it like doing all those sex scenes?" Allen said they were fine, adding, "I wanted to get in shape for it anyway." So Martin moved on to Richard Madden, who plays Robb Stark. "So Richard, you've done a sex scene, too." Madden blushed and said he preferred "swinging a sword." Whoops.
Later, when a fan in the audience asked the cast about the most enjoyable scenes they've filmed, Allen said he really liked when Theon gave that speech at the end, right before he was knocked out. Martin replied: "So you liked getting hit in the back of the head very hard more than naked sex scenes?" Allen answered, "It was more the acting."
Two minutes after that, another person in the crowd asked about the costumes. Here, Martin complained that Daenerys's Quarthian gown had been altered so as not to expose her breasts. (In the book, one breast is bared proudly.) Emilia Clarke said she personally enjoyed the added warmth.
Meanwhile, HBO announced some major Season 3 casting news, including Diana Rigg (The Avengers) as the Queen of Thorns, Mackenzie Crook (The Office) as wildling raider Orell, and Clive Russell as Brydon Tully, a.k.a. the Blackfish.  Other additions include Nathalie Emannuel as Missandei, Kerry Ingram as Shireen Baratheon, Paul Kaye as Thoros of Myr, Thomas Brodie-Sangster as Jojen Reed, Ellie Kendrick as Meera Reed,  Richard Dormer as Beric Dondarrion, Kristofer Hivju as Tormund Giantsbane, Philip McGinley as Anguy, Tara Fitzgerald as Selyse Baratheon, Tobias Menzies as Edmure Tully, and Anton Lesser as Qyburn.
"Clearly, I have to start killing these characters quickly to make room for the new ones," Martin said.
Check out the cast talking about their new roles below: