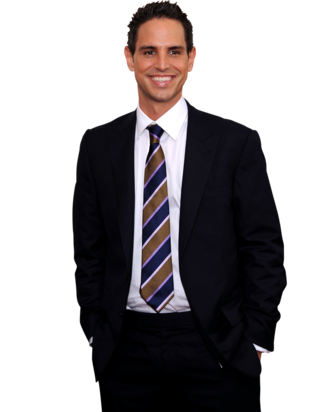 Greg Berlanti.
Photo: Bryan Bedder/Getty Images
Prolific writer-producer Greg Berlanti is working on three new shows at once: USA's down-and-dirty soap opera Political Animals (premiering Sunday at 10), The CW's comic adaptation Arrow for the fall, and CBS's midseason crime drama Golden Boy. Political Animals stars Sigourney Weaver as a former First Lady turned Secretary of State who discovers her husband's philandering ways just as she's considering a run for the Oval Office (sound familiar yet?). Berlanti, who is best known for creating Everwood and executive producing family dramas like Brothers & Sisters and Dirty Sexy Money, took a break to talk to Vulture about nabbing Weaver (God played a role), getting sex and shits onto USA, and how he's going to make Arrow less reliant on arrows.
You've got a cop show, a superhero drama, and a political soap going at the same time. How do you switch gears?

Well, it's not so hard between Arrow and Political Animals because, in my mind, they're both vigilantes trying to clean up the city. Honestly, though, it's easy to shift gears because the teams I work with are different. It's probably like the way you shift gears between stories you're writing in the course of a day.
Since you cast Sigourney Weaver as God on Eli Stone, I'm assuming it was no problem getting her to do Political Animals.

Oooh, I'm glad you watched Eli! You're one of the people who watched it and knows her from that? That's great. You're in a very special, very small club.
Did you always see her as God?

We were big fans of hers. When we wrote God, we knew it was kind of an iconic character — much like certain female secretaries of state — and we knew we needed someone equally iconic for it. Oprah had already done it. We sent her the script and she really responded to being God [laughs]. I always had [Weaver] in the back of my brain when I was writing Political Animals' Elaine because it's obviously a very short list of ladies who could pull it off. She's ultra-competent and tough, but still vulnerable and funny. In almost everything she does, Elaine's taking on something or someone, like her bosses or her family. She's someone you want in charge.
Political Animals isn't your first drama set against politics. You co-created The WB's Jack & Bobby, about the very early years of the Kennedy brothers, and even Brothers & Sisters began as a show about a conservative commentator who had a liberal family.

Yeah, this world is something I really enjoy reading about and talking about. And not just the politics, but in particular, the world of First Families. This time, I knew I wanted to do something about a former First Family because I felt like that hadn't been done, and they're kind of our royalty. What happens to them when they're out? It times really well with the collective sense in the country: "Will we ever be like we were in the nineties again?" Well, how about a family that was the family of the nineties, looking at themselves and asking the same question: Will we be great again? It seemed like a natural allusion to what people are talking about today.
Why adhere so closely to Hillary Clinton's past as the basis for Elaine?

She was definitely the inspiration for the character, as was someone like Madeleine Albright, who actually wrote the book about being the first female secretary of state, and I had read that at the time. If we were doing a show just about policy, we might rip policy from the headlines, but the thing that was interesting to me was ripping some of the narrative résumé from the headlines. What's it like to be running for office and your husband ran before you, and did that job successfully? Or what's it like to work for the person who beat you when you ran? I'm happy for them to draw the comparisons and check out the show and what we do different. In the way Primary Colors did, or even I sometimes say, the way The Devil Wears Prada did, we're drawing clear parallels between the larger-than-life characters that exist in the real world. You just go from there.
Everyone in the Hammond family's got a big, dirty secret. It reminded me more than a little of Dirty Sexy Money. 

That was a fun show. The one person you're allowed to rip off most is yourself [laughs]. Some people will definitely watch Political Animals and feel that, or think of Brothers and Sisters or Jack & Bobby. We're dealing with a dynasty of a sort, so it has a lot of that same Dirty Sexy DNA.
Elaine gets her butt pinched by the Russian foreign minister!

[laughs] Yeah, I wanted to have fun with it! I actually read, after the fact, in Condoleezza Rice's book, that some head of state or someone had been keeping creepy pictures of her. I thought, "Ooh, they're all just creepy in D.C., aren't they?" We really have fun with some of the male characters on the show. But the point is they're a family just like us, and broken in all these different ways. There's a sex addict, a drug addict, a kid with rage issues, some medical stuff going on, a drunk grandmother, but we look at them and see ourselves and, hopefully, there's nothing we want more than to get them back in the White House [laughs].
There was some nudity in the trailer, lots of sex, cursing. How did this show wind up on USA, a cable network that hasn't yet pushed those kinds of boundaries?

I was at a Christmas party a few years ago and [co-president of USA] Jeff Wachtel came over to me and said, "If you had made Eli Stone for us, it would still be on the air." I always remembered that. Networks change their brand all the time. I'm interested in having partners who see the same show I see in my head, and we sent the script to them because I really thought they might respond to it. I actually watch a lot of their shows, and some of them are very funny, creative, and witty. They got it right away.
But Royal Pains or Burn Notice, for example, aren't nearly as racy.

We had conversations about that. I wanted to show the disparity in politics where you sound one way when you're talking to the world on camera and then you go into the backroom and it's vulgar as hell. At the outset they said, "Well, we won't allow fuck," so I had to lose a couple of fucks, and then I said, "I'm gonna need all my shits." They said I could have my shits. And with regard to the sex, on network, characters are always just finishing or just about to start doing it. They're rolling on top of somebody or rolling off somebody. I sort of dreamt in my head for years of someone being able to keep going [laughs]. There's a lot humor in those moments but also there's a lot of sex in our politics. They're inextricably linked. Again, USA was willing to go there and give it a shot.
For the commercials, the network did black out the butt of the woman having sex on top.

But did you get the disc? The screener? There should still be butt in there. That scene in particular, I can honestly they say didn't give me a note on, which was great.
Elaine's nemesis is a reporter who's covered the Hammonds for years. She blackmails her way into one-on-one time with the family. Are they going to do this dance over the entire six-episode season?

Yes. At some point fairly soon, Susan finds out about Elaine's political ambitions before a lot of other people do. We've all heard the parable of the scorpion and the frog, but here they are both scorpions. They both could wind up dead. They're both great at what they do, powerful, and they're both women in men's institutions.
Moving over to Arrow, it feels a lot like Batman Begins meets Revenge.

What we were going for more than anything was the Bourne franchise. Action that feels real. He's not a hero with super-powers. You have to believe he's gifted in other ways. The mystery of what happened to him on that island for the five years he was gone is this great origins story we get to tell over the course of the show.
Will his arrows be newfangled ones that do things beyond, you know, shoot straight?

Colleen Atwood designed his wardrobe and one of the coolest things she did was ditch the quiver. He has one, but he keeps different key arrows on his body. He can use some with just his hand. But also, over time we'll reveal all the things he knows, all the different styles of fighting he's picked up. Really, his hands are even more of a weapon than any arrow he carries.