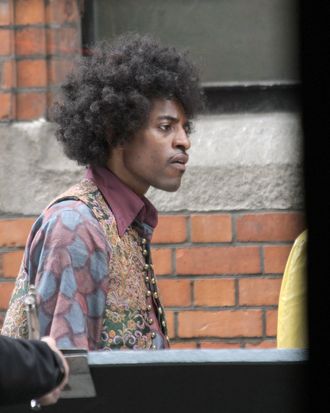 Andre 3000 on film set in Dublin, Ireland. Andre is seen walking with his arm around co-star, Hayley Atwell on the Jimi Hendrix movie, "All Is By My Side".
Photo: Mark Doyle/Splash News
Since the Hendrix estate doesn't approve, All Is By My Side — the Jimi Hendrix biopic starring André 3000 — will have to do without any music written by the man himself. But there will be a "Sgt. Pepper's Lonely Hearts Club Band" cover. And some Muddy Waters. This is infinitely more respectable than the 30 Rock Janis Joplin biopic, don't worry.