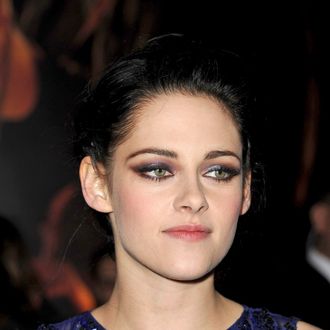 Kristen Stewart
Photo: Kevin Winter/Getty Images
It is worth noting, before we dive in, that Kristen Stewart has never publicly acknowledged her long-term relationship with Twilight co-star Robert Pattinson (though the two have gotten increasingly flirty at press events). So the following statement, released hours after Us Weekly published photographs of Stewart cuddling with her 41-year-old, married Snow White and the Huntsman director Rupert Sanders, is even more unexpected. Here it is in full:
"I'm deeply sorry for the hurt and embarrassment I've caused to those close to me and everyone this has affected.  This momentary indiscretion has jeopardized the most important thing in my life, the person I love and respect the most, Rob. I love him, I love him, I'm so sorry."
Points for the honesty, but good grief! What is going on?! Not even a denial, or a "please respect our privacy in this delicate time," but a very emotional admission of guilt from the usually blasé Kristen Stewart? This is so strange! We cannot imagine the kinds of phone calls that are being made at Summit Entertainment today, but they must be harsh.
Update: People has an apology from Sanders, too. "I am utterly distraught about the pain I have caused my family. My beautiful wife and heavenly children are all I have in this world." It goes on.