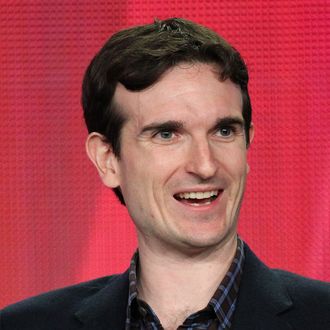 Craig Thomas
Photo: Frederick M. Brown/Getty Images
We still don't know if the upcoming season of How I Met Your Mother will be its last, but over the weekend, CBS execs suggested they would prefer that the show go on a little longer. "We want the show to come back next year," Eye entertainment division chief Nina Tassler told reporters at the Television Critics Association summer press tour. But she also said that no deal had been done and that talks were still in the early stages. This is all both good and bad news to HIMYM's producers, who very much have a plan in place on how to answer the show's titular question (and wrap up the series). But executing that plan requires them to know well in advance precisely when their show will end. So with writers already shaping scripts for season eight and actors set to return soon, how are the powers that be at HIMYM going about planning out this season? We caught up with co-creator and exec producer Craig Thomas Sunday night and peppered him with questions about just how he and partner Carter Bays are coping with the uncertainty.
You don't know if this is your last season or not. So how are you handling the writing of early episodes of the show?
We are shooting the premiere to launch the final season of How I Met Your Mother. Whether it's the final season or not, I don't know. But the premiere sets us up to end it.
You obviously would like to know sooner rather than later how many episodes are left.
At a certain point in the season, there's a point of no return. We're hopeful that the deals will be made before that moment happens. There's some nail-biting going on. There'll be a moment where we have to start telling the ending.
So what can you reveal about the premiere?
We give the audience a glimpse, a flash forward into that future Barney and Robin wedding day, deeper than we've ever gone before. We give them a hint of how the series ends. It's one of those things where you get a chill writing it and shooting it. Will that activate the exact ending of How I Met Your Mother? It doesn't have to, but it could.
Can you tell me what the reveal is? Is there yellow involved? [Editor's note: Past episodes of HIMYM have indicated Ted first met the Mom when she was carrying a yellow umbrella. Try to keep up.]
There may be some yellow involved. It's cloudy with a chance of yellow in the season premiere. There's a genuine gasp moment in the premiere of season eight, where I think the fans will be on the floor about what we're showing them. Then it's just a matter of how fast we're barreling toward the finish line from there. And that will be determined by people far more powerful and attractive than us. But whether it's the last year or the second to last year, you're going to see some stuff you haven't seen on the show before. We'll tell stories differently. We'll tell entire arcs in different years. We're so close to the end, we feel liberated to do whatever we want. This is not us treading water; this is us headed toward a distinct finish line.
What's the title of the premiere episode?
It's called "Farhampton," after the name of the town where Barney and Robin get married.
We now know that Barney and Quinn (Becki Newton) are about to break up. How long will you play out what's left of their relationship?
There's a very funny demise to that relationship, which takes place in episode two. It frees Becki up for other projects. I hear she's got something good going on at Fox.
Have you cast the Mother?
I can't tell you. I can't tell you.
When you do cast the Mother, will you want to keep that casting secret? Do you want to keep it a surprise until viewers see it?
Yes.
Do you think you can actually keep it a secret?
I do.