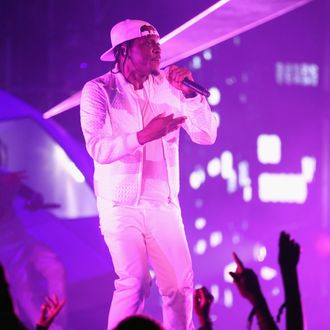 Pusha T at the BET Awards.
Photo: Christopher Polk/2012 Getty Images
Even with Cruel Summer a little more than a month away, it's still kind of surprising Kanye West will follow up his 2011 Jay-Z collaboration Watch the Throne with a posse album featuring tons of rappers who aren't him (namely his G.O.O.D. Music stable). Thus far, cuts like "Mercy" and "I Don't Like" have sported titanically dark beats full of twists and turns, while "New God Flow" sticks to the script. West debuted his Whitney Houston–tribute–paying, Air Yeezy–sneaker–hyping verse a capella on the BET Awards, and now both sides of the boast war are on full display: Size up Pusha's "I believe there's a god above me / I'm just the god of everything else" against Kanye's "I'm living three dreams: Biggie Smalls', Dr. King's, Rodney King's." Then the whole thing closes out with an earthquake of a G.O.O.D. Music chant.