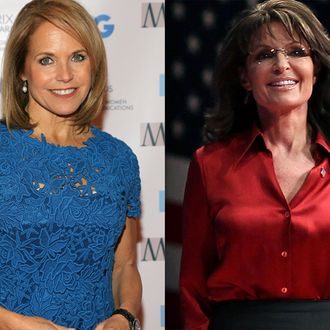 Katie Couric wants to go another round with Sarah Palin. The former Today and CBS Evening News anchor told reporters in Los Angeles today that she's asked the former Alaskan governor to be a guest on her new daytime talk show, Katie, which debuts in syndication September 10. Has Palin's camp responded to the offer? "Not yet," Couric said, adding that she's also waiting to hear back from the offices of President Obama and Mitt Romney. "I've invited both candidates and their wives on the show," she said. "And any other family members they might want to bring."
During her half-hour chat with reporters at the semi-annual TV Critics Association press tour, Couric admitted that her tenure as anchor of The CBS Evening News presented her toughest professional challenge. "It was hard to understand some of the vitriol that was sent my way," she said. "Some of the criticism seemed so shallow — the way I held my hands, when I wore white after Labor Day. It was a winter white … and it was Armani, people!" That said, she called her five years at the Eye "a character-building experience." Couric also repeated statements she's made previously about former colleague Ann Curry's ouster from Today, once again saying her "heart was breaking" when Curry gave her teary-eyed farewell.
Couric also unveiled a few more details about Katie, including the fact that Sheryl Crow wrote and sang the theme song for the show. Recurring features will include a franchise in which Couric spotlights "women who should be famous" and a segment called "YOLO" (You Only Live Once), designed to let Couric and her viewers accomplish items on their bucket lists. Among Couric's fantasies: a date with George Clooney, jumping out of an airplane, and starring in a Broadway musical. As for the latter goal, "I don't think that's going to happen," she said. "For my high school musical, Carnival!, they cast me as a deaf mute." Couric said she protested the decision and was upgraded to a singing bear.