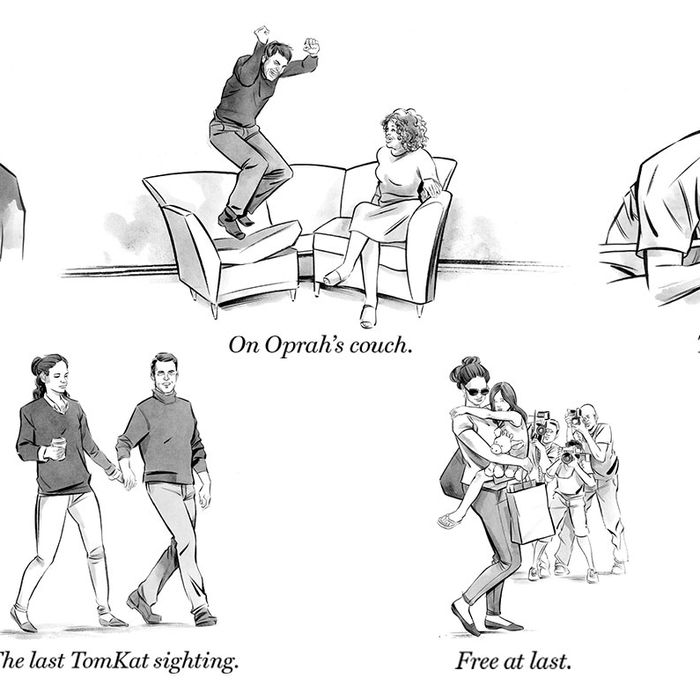 Photo: Kagan McLeod/New York Magazine
What Was That? Part I
Four months before Katie Holmes filed for divorce from Tom Cruise, the couple walked into the Mark Taper Forum, in downtown Los Angeles, to see a performance of Clybourne Park. A thirty­something film marketer in the audience, out with his ready-to-burst wife for one last pre-baby hurrah, turned to her and said, "If he sees you, he'll talk to you, because you're pregnant.
"Because that's what Tom Cruise does," the husband says. "He helps people."
Sure enough, at intermission, as the expectant mother stood in line for the bathroom, Cruise told her to go ahead of them. "Katie looked great," says the husband. "Cruise looked like a tourist: dumb designer jeans and a white button-down shirt and J.Crew earthy-type shoes. He has amazing posture. He walks on his tippy toes. He seemed to be maximizing his height with each step."
Cruise and Holmes stood in a darkened area near the bathrooms. "Everyone's just staring at them. And he and Katie were extremely touchy-feely. They're giggling. He was kissing her. And everyone's like, Wow, this is real—because no one believes it's real. But if they weren't real, why would they be all over each other? Everything they do in public is over-the-top. But there was practically no audience. There were only five people waiting for the bathroom."
Soon, though, the make-out session started to take on a different complexion. "This went on and on," the witness recalls. "He keeps kissing her. And we're like, This is strange that they're still kissing. Who goes out and has a make-out session with their wife? I mean, really. It felt like a poorly directed love scene. It's like you're kissing your girlfriend on the subway—if you kiss her fifteen times, it starts to be less cool. By the end, I was just confused."
M:I 5—Holmes Protocol
When news broke online, on June 29, that Holmes had filed for divorce, it seemed an inevitable denouement to everyone except Cruise, who told people he'd been "blindsided" by the news. The most common story line, soon purveyed from TMZ to Us Weekly to E!, was that Katie Holmes, an American sweetheart indentured into celebrity servitude by her No. 1-box-office-star husband and mind-controlled by an evil octopus-like religious empire, had found untapped inner reserves of strength and courage and pulled off a daring, meticulously planned ninja escape to save 6-year-old daughter Suri. There were reports of disposable cell phones, fired security staff and publicists, a secretly rented apartment in a strategic jurisdiction. Right there in the newspapers every day, plain to see, were the vindicating photographs of a reborn Holmes, smile back on her face, bounce back in her step, as she went about her new life right here in New York City, happy at last. In a stroke, Holmes had rebooted the Mission: Impossible franchise with a female lead—now she was the one dropping silently on a wire into a room bristling with retinal scanners and motion detectors. In the first tent-pole role of her career, she had hit all her marks and won the summer. But as the theater lights came back on, something felt slightly off—the story too scripted; surely it concealed a more complicated human truth.
The enduring, trashy mystique of celebrity super-couples, with their cartoony portmanteaus—Bennifer, Brangelina, TomKat—has something to do with 1 + 1 = 3 fame math, but more to do with category confusion, the blurring of real people into characters and lives into plots. The tabloid media have long been seen as the main shapers of these narratives—but that view under-weights the creative input of the stars themselves, who, by the nature of their vocation and also concern for their own tiny little zones of privacy, have always been comfortable with a high level of falsehood in the public presentation of their romantic lives. TomKat took the phenomenon to a new level, making for the richest, most layered and indeterminate story of celebrity couple-dom ever told.
The most basic reason for this is Cruise. There's a kind of unholy contiguity between Tom Cruise the man, formerly Thomas Mapother of New Jersey, and Tom Cruise the empire, brand, and action hero made flesh. He rides motorcycles, flies planes, does his own stunts—he jumped off the Burj Khalifa in Dubai, the tallest building in the world, for ­Mission: Impossible—Ghost Protocol. Even his religion, Scientology, boasts a cinematic good-versus-evil morality. When it comes to women, he's an unrelenting star-fucker (the narcissistic apex being his homonymous alliance with Penélope Cruz). His whole life is performative.
Cruise's marriages offer a new dimension to these self-­inventions, an extra frisson, because of the presence of another human being, who would presumably have to be in on the show, whether for the money, or fame, or (apparently unlikeliest) love. Because Cruise, for all his wealth and blinding, dimpled smile, has a whole wagon train of baggage. At the heart of this story, as of all Cruise stories, is the central Cruisean mystery, the conundrum of his thought-policing religion, Scientology, and the degree to which he is in its grip. Is Cruise really the short-circuited Scientology android he appeared to be when he was first courting Holmes? A prevailing unified field theory of the Cruise-iverse—one that purports to explain everything from his PR meltdown seven years ago to his oddly theatrical relationships to the incessant rumors about his sexuality—is that everything flows out of his wacky religion. But Holmes complicated this theory. Why would a 26-year-old actress with a healthy career—Catholic, no less—fall for someone like that?
What Was That? Part II
Cruise's boyishness and modest stature had always played oddly with the womanly glamour of his previous paramours (Mimi Rogers, Nicole Kidman, Cruz); he could seem more like their son than their lover. On the other hand, Holmes, the apple-cheeked innocent from Dawson's Creek, 26 to his 43 when they met, seemed more like his daughter than his lover, cute and childlike to the point that MSNBC repeated a British tabloid claim that she was still a virgin.
As a teenager crushing on Cruise, Holmes had told her sisters, "I'm going to marry him one day," as she recalled in a Seventeen interview in October 2004. A few months later, Cruise called Holmes's manager and asked to meet her, ostensibly for a role in Mission: Impossible III. Holmes, who only the previous month had broken off her engagement to the actor Chris Klein, was living in New York and flew to L.A. "I knew in an instant that we were going to be together, that we were going to get married," she would later recall. Soon Cruise was flying Holmes to Rome, where he had the bed in their $3,500-a-night hotel room strewn with rose petals.
This wasn't real life. It was a beat sheet for a Nickelodeon special. Cruise operates at a level of bludgeoning, on-the-nose symbolism, and for his first date with Holmes, he took her on a high-speed motorcycle ride to Santa Monica. His preferred flowers to give were red roses. He flew her in his 1944 Tuskegee Airmen P-51 Warbird, which he painted with the name Kiss Me Kate. Though twice-divorced, Cruise waited only two months to propose marriage, and he did so in Paris, on top of the Eiffel Tower, after dropping to one knee and presenting Holmes with a five-carat yellow-solitaire-diamond ring. Cruise then arranged a press conference to disseminate the news. "Sometimes dreams do come true," Holmes said. Her love for Cruise was, "like, wow … When Tom calls for me, I'm coming … I miss him right now, and it's been like one hour." There was a distinct staginess about the relationship: Cruise sent an armed courier to deliver a Chanel diamond necklace in the middle of an interview Holmes was doing with W. "He's my man, he's my man!" Holmes gushed. "Tom and I will ­always be in the honeymoon phase," she said.
But the TomKat plot quickly threatened to go off-genre. Barely a month after meeting Holmes, Cruise made the now infamous appearance on Oprah, where he jumped on the sofa, pumped his fists, and otherwise proclaimed how gaga he was about his new girlfriend. Sixty-three percent of respondents in a People magazine poll said they ­believed the relationship was a publicity stunt. Winfrey later ­admitted to finding his behavior perplexing.
There was a certain amount of evidence for the interpretation that Scientology was behind Cruise's peculiar mania, and that TomKat was a puppet show. Even before the engagement, Holmes converted to Scientology. In quick succession, Holmes fired her manager, her agent, and her publicist. On the promotional tour for her movie, she was accompanied by a Scientology "handler," who, when Holmes paused before answering an interviewer's question about how she felt about Cruise, fed her the line: "You adore him." Holmes then said, "I feel so lucky and so—like I've been given such a gift."
The narrative quickly forked into parallel stories connected only by the names of their main characters. The one found in magazines like Star and InTouch, and around the Internet, was gothic opera ("Hollywood's Most Suspicious Couple," Life & Style screeched in 2006). The other, peddled by Cruise and Holmes, was a saccharine fairy tale.
In the tabloid/Internet telling, even Holmes's pregnancy was a font of sinister implications. When Cruise bought an expensive sonogram machine for home use—not all that crazy for a celebrity who has to worry about a nurse's aide selling out intimate prenatal secrets—bloggers pronounced him the next Wacko Jacko. "Silent birth," a Scientology practice, was something Cruise was "forcing [Holmes] into … on a boat" (Star), and the couple's derelict failure to cough up Baby Suri for the hungering cameras in her first several months led to ominous speculation (birth defects?): "Baby Mystery. Where's Suri? Inside Tom & Katie's Big Secrets" (Us Weekly). The tabs, regarding Holmes as a brainwashed zombie, reveled in publishing hostage photos of Stepford Wife Katie Holmes, her "dead eyes" proof that she was being held against her will. In March 2011, Holmes told an interviewer, "Our relationship is great." By the end of the year, though, a subtle shift had occurred in Holmes's interviews, as she seemed to downplay Cruise's role in her life. In a November article for Marie Claire, Galt Niederhoffer, who had directed Holmes in The Romantics, profiled the actress, calling her "a devoted wife and mother" and noting, without irony, that one of her and Holmes's favorite BFF pastimes was "devising stories about people we do not know." The sole reference to Cruise was a simple "husband Tom," and there was a foreshadowing quote: "I feel ready. For the next chapter in my life. I'm excited to begin a new phase: roles I might have been afraid to play, places I want to travel with my daughter."
Cruise seemed not to have gotten the memo. In May, just a month before Holmes dropped the D-bomb, Cruise told a red-carpet reporter, "She's an amazing woman," and in ­Playboy, he called her "an extraordinary person."
"I'm just happy," Cruise said, "and I have been since the moment I met her. What we have is very special."
Katie! Katie! Katie!
Around 8:30 a.m. on Friday, July 6, Day 8 of the tabloid serial "TomKat: The Divorce," the paparazzi are clustered on the sidewalk outside Whole Foods in Chelsea. A few minutes earlier, Katie Holmes had gone in.
More shooters arrive on bicycles. This is the biggest story in the world right now, and the last week has seen a rotating encampment of Telephoto-wielding freelancers, who wait hours to get a shot of Holmes and/or Suri outside the Chelsea Mercantile building on Seventh Avenue, where Holmes has rented an apartment. There's Jackson Lee from Splash News, a leading pap who got the first shots of George Clooney after his motorcycle accident in New Jersey in 2007. Marcus Santos, the Daily News photographer who two weeks earlier made news when Alec Baldwin allegedly punched him, has been reluctantly dispatched here. "It's a crazy shit show," says Santos, who has spent most of his career on disaster reporting. "None of us wants to be here."
For the last week, the TomKat media have been shrugging off the disdain of passersby—"Vultures," "Parasites," "Get a life," "Did you go to journalism school for this?"—while idly chatting about Holmes and Cruise:
"I think she's a nice person."
"She's kind of gangly and dorky-looking."
"She's with a 50-year-old man?"
"Suri's a bitch."
"He's a fruitcake," a photographer says.
"Then how come no one's ever come forward to say they were in a relationship with him?" asks a paparazzo.
They compare the pap-friendliness of various celebrities. Among the best are Cruise, in fact, and Hugh Jackman. Scarlett Johansson, who always runs, scowling, is "the worst." They scoff at the hypocritical attention-seeking of celebrities ("Why do you think Alec Baldwin tweets his location?"). A middle-aged woman with curly gray hair, tinted granny glasses, and a Hawaiian shirt wanders over. She's pet-sitting for someone in the building, and she wants to know why the media won't pay this kind of attention to the problem of puppy mills. Craigslist has really become lax, she says. There's a "secret kill site" on 110th Street. There's also—
"Katie! Katie! Katie!"
Holmes, accompanied by a bald, burly off-duty police officer, has emerged from Whole Foods and begun the half-block walk back to the entrance of her building. She's wearing a salmon blouse and blue jeans, with her hair pulled back in a ponytail. The puppy-mills lady is left talking to the air as eight paparazzi swoop in front of Holmes, forming a solid wall of jutting lenses that moves furiously backward, calling her name as their legs backpedal and their shutters snap, keeping a few feet ahead of her as she proceeds up the sidewalk, eyes down, her crooked half-smile fixed on her face, and then ­disappears inside the building.
An intern from People who'd followed Holmes into the ­supermarket reports that she was in the five-items-or-less aisle. Someone notes that she was wearing heels, which she rarely did with Cruise, clearly "a sign of her new freedom." The paps have already scattered to their cars and scooters to upload the fresh pictures and try to make a sale.
The Micro-Science of Super-Couples
From the point of view of a tabloid editor, the beginning of any celebrity marriage is also the beginning of a countdown to the inevitable celebrity divorce, and the Kremlin­ology of celebrity-relationship reporting isn't as random as it appears. The Daily's senior gossip editor Melissa Cronin ­almost forensically tracks PR metrics. She predicted the ­Ashton Kutcher–Demi Moore split based on the dwindling number of interspousal tweets. Likewise the separation of Johnny Depp and Vanessa Paradis, who hadn't been seen together in public in months.
The operative rule in megastar coverage is to watch what they do, not what they say. Cruise's sunny Playboy interview in May notwithstanding, Cronin was skeptical: She had maintained a running tally on her calendar of days elapsed since Cruise and Holmes were last photographed publicly together—on April 1, in Louisiana, where he was shooting Oblivion. "We see thousands of pictures a day, and then for three months there were none." Holmes also wasn't doing any press with Cruise for Rock of Ages, and she didn't attend the ceremony for his Friars Club Entertainment Icon Award ­(instead going to China for a "random ice-skating thing"). And Holmes, who early in the marriage went to Scientology's Celebrity Centre all the time, hadn't been seen there in months. "I was like, They're gonna split up," Cronin says. Counting photos gives the closest approximation of truth in the fuzzy science of celebritology.
Cruising Cruise
Everybody knows that Tom Cruise loves to suck dick. Everybody knows that the creepy Church of Scientology "auditions" wives for him, and that his marriages are based on secret contracts written to conceal his sexuality in exchange for cash and the promise of fame. Right? That's basically what one of our most eminent highbrow journalists recently tweeted, anyway. (@GeraldoRivera: "Does Scientology have a special program to provide cover for closeted gay superstars?")
You probably already know that Cruise once hired a male porn star, Chad Slater, to meet him in a boxing ring for some top-secret nude wrestling (as reported in the French gossip rag Actustar; Cruise sued Slater for $100 million and won a default judgment). Surely you are aware that Katie Holmes was impregnated with the frozen spunk of L. Ron Hubbard, Suri's real dad (one of the more preposterous claims aired in Andrew Morton's biography of Cruise, yet one that the Church of Scientology felt it necessary to publicly refute). It must be old news to you that Cruise is sterile (a claim Cruise has sued various publications over, and which Nicole Kidman's two failed pregnancies during their marriage, and the birth of Suri, would seem to rebut). And everybody knows how Marisol, wife of Matchbox 20 lead singer Rob Thomas, found him abed with TC, as a viral e-mail revealed in 2005. (A viral e-mail! That's the source of the claim! Thomas has since said: "If I were gay, Tom wouldn't be on the top of my list. It would be Brad Pitt.") More recently, Gawker breezily announced the Holmes-Cruise split with this headline: "Tom Cruise, Katie Holmes Divorcing Because They Couldn't Fake Being in Love Forever and Plus She's Not a Dude." And ­Jezebel weighed in with: "Katie Holmes Maybe, Possibly, Walked in on Tom Cruise Extramaritally Bending It With David Beckham." Because everybody knows everything.
My cousin George is in the Cruise-is-totally-gay camp. George also happens to live in the Chelsea Mercantile, where Holmes is living, and on the evening of July 9, Day 11 of ­"TomKat: The Divorce," I visit him in his apartment. Earlier in the day, Holmes's lawyer announced that a settlement had been reached. The quick, abrupt end to what had been excitedly anticipated as a drip-drip-drip saga that could finally unravel some of the more unfathomable Cruisean mysteries has left the tabloids with major blue balls.
"I'll tell you how I know he's gay," says George, who has lived on the twelfth floor since the Mercantile opened in 2000. He draws on his cigarette, then recounts riding in the elevator with his gay neighbor Demetrius, as we'll call him, shortly after Cruise helped Penélope Cruz shop for an apartment for in this same building. "I say, 'What's the deal with that? Is he gay, or not?' Demetrius says, 'He's gay.' He says, 'In the gay community, we know.' I say, 'What would you do if you ran into Tom Cruise in the elevator?' He says, 'I'd jump him.' "
This is George's evidence?
"That's from a gay elder statesman," George says with all the conviction in the world. "They have servants in their house. Young buff guys who probably have fucked Tom Cruise. They wear leather wifebeaters. These are decadent gay men. There are Roman columns in the apartment. He said, 'We know.' "
The First Law of Tabloid Dynamics
And so the story has ground onward, the daily headlines telling a clean, lean, high-­concept action-adventure tale starring Holmes:
"Creepy crew, reportedly from Church of Scientology keeping tabs on Katie Holmes, daughter Suri."
"Katie Holmes's Secret Escape Plan."
"Katie Holmes Steps Out Smiling in Public for the First Time Since Filing for Divorce From Tom Cruise."
"Holmes Had to Flee Tom's 'Cuckoo' Scientology for Herself and Suri."
If at times the narrative has seemed to run on autopilot, that's because it has. "How the tabloid magazines work is they make a judgment about what the audience already thinks about a celebrity story—Angelina stole Brad, and Jennifer is miserable about it—and they just keep repeating the story because it reassures people that what they already think is true," says Ben Widdicombe, former "Gatecrasher" columnist for the Daily News. "With Katie and Tom, it's, 'She was this poor innocent lost bride, and Tom was her jailer.' That certainly rings true to me, but that's as deep as tabs go, so it ­becomes a self-fulfilling story."
Of course, there's almost no real information to support any particular narrative. Everything is blind-sourced. Everyone's publicists deny everything, including denying, off the record, that they're even sources. It's an information desert, or close enough, and the tabs wring cover stories from the merest specks of news, pseudo news, and non-news (viz., the "Scientology goons" staking out Holmes, who turned out to be Holmes's own security detail). The show must go on.
A Humble Reconsideration of Tom Cruise
What if we have Cruise all wrong? The legend of TomKat is ultimately little more than a mobsourced Wiki text, massaged and ­exegeted day by day. It may be secular scripture, but it's only loosely based on the lives of actual people named Tom Cruise and Katie Holmes.
Consider, again, the supposed "contract" and "auditions." These are thriller concepts, screenplay words. No doubt, Cruise and Holmes, and earlier Cruise and Kidman, did have a "contract" that included terms related to the length of their marriage; this is more generally known as a "prenup." No doubt, Cruise did hold "auditions" for a new girlfriend-wife; these are more generally known as "setups," or even "dates." It's not like Cruise is going to meet someone in a bar or on OKCupid. Ex-Scientologists say that after the divorce from Kidman, the church did try to introduce him to various ­Scientology women, but none took. And reports that in 2004 Cruise summoned various starlets to meet with him—Jessica Alba, Scarlett Johansson—hardly require a nefarious explanation. As the star of the Mission: Impossible franchise, it was business as usual for him to be involved in choosing his co-star, and he wouldn't have been the first single male actor to simultaneously be evaluating the mating potential of a hot young actress. Finally, although everyone has a Cruise-is-gay story sourced from "someone who works in the business and would know," who really has any idea what or who makes the needle dance on Cruise's plethysmograph?
Actually, one person who knows what gets the needle jumping, albeit on a different device—Scientology's lie-­detector-like E-meter—is Marty Rathbun, dissident former top-ranking executive of Scientology, who, before leaving the church in 2002, was Cruise's personal "auditor." He spent more than a hundred hours listening to Cruise's innermost secrets, and while Rathbun has never disclosed the contents of those sessions, he does insist, about Cruise, "He is as hetero­sexual as they come."
In 2001, an Australian magazine published a remarkable transcript, now floating around the Internet, of an intercepted cell-phone argument between Cruise and Kidman, and it's impossible to read and still believe there was nothing real there.
"We're hanging on by a fucking thread, okay? A thread," Kidman says at one point, later adding, "I had a great relationship that is now not a great relationship." Complaining that Cruise hasn't visited her on the set of Practical Magic, she says: "Did you give me anything? Did you give me a note, did you give me a bunch of flowers?
Cruise responds: "Nic, did I get any flowers when I came back from Eyes Wide Shut? I was waiting here, I had the candles lit, I had a bath ready for you."
Kidman: "I don't really want this, okay? I don't want to spend my whole dinner break on the phone yelling."
Eventually, Cruise, calling her "bubba" and "knucklehead" and "Niccy babes," manages to lower the temperature with some Cruisean charm. "I'm a sweetheart," he says. "Why don't you just admit it? Just give in to it. Most of the time I'm adorable. I'm just absolutely adorable, Nic [laughs]. Come on, laugh a little."
Kidman [softening]: "How is your foot?"
An Alternative Theory of Katie Holmes
Something didn't quite track about the media consensus that insta-jelled around the story of Holmes leaving Cruise. Was it possible that the "feminist hero" in our midst, as one commentator styled her, was actually a character of much greater complexity and savvy and Atlas-shrugging, Cruisean will to power—"I'm going to marry him"—than anyone had assumed?
The details of Holmes's "escape" are most remarkable for their deliberate and very public choreography. Consider:
• Instead of sitting down with her husband and saying she wanted a divorce, Holmes waited until he was in Iceland, then phoned him with the announcement, and was reportedly unwilling to reconsider.
• Holmes didn't give Cruise any explanation for the decision, according to someone with knowledge of the situation.
• Afterward, according to the knowledgeable source, Holmes wouldn't speak to her husband again, instead making him deal directly with her father (a ­divorce lawyer, as it happens).
• The story as it played out in the press was self-evidently driven by leaks from the Holmes camp.
• At the same time, false stories, uncorrected by Holmes's publicists, ran, suggesting that Holmes had secured the new apartment without Cruise's knowledge (in fact, according to Cruise's publicist, Amanda Lundberg, Holmes and Cruise had agreed to get the apartment in mid-May).
• In Holmes's daily photo ops, Suri was a conspicuous prop, as she has been for years. If you think this is just a case of a celebrity trying to live a normal life: When was the last time you saw a picture of Blue Ivy? Can you name any of Julia Roberts's kids?
• Playing into the escape-from-­Scientology story line, it was reported that Holmes had now "registered" with a Catholic church. Who "registers" with a church? You just go.
• And Holmes wasted no time in starting filming of a new movie, based on her own screenplay about a single mom, Molly, on the day the settlement was announced.
The Mercantile is a curious choice for a woman in jeopardy. She has come to Manhattan, perhaps logically, since she has said she wants to do more Broadway. (Last Thursday, it was announced she'll be in the comic play Dead Accounts, opening at the Music Box this fall.) But this is not some secluded building on East End Avenue. It's in the center of the city, and the residents of its 354 units include Cruz and Javier Bardem, Bobby Flay, Lisa Stansfield, and Kyle MacLachlan. The building has a privacy-friendly underground garage, but so do dozens of other buildings in the city, and Holmes hasn't even been taking advantage of it. If she wanted, she could exit the garage in a car with dark windows, and paparazzi would never catch a glimpse of her or Suri. Instead, every day, when she's left the building for errands or meetings, she has promenaded out to a waiting car, in full view of photographers. Nor, when on foot, has she used the side entrance on 25th Street: She's been stepping out right into the paparazzi maw for the sake of trivial grocery shopping. How about FreshDirect? One night, cousin George and I rode the elevator to the penthouse, to what George was certain was her apartment—its previous tenants included Marc Jacobs and Nick Jonas. I expected bodyguards, but George scoffed: "This building is a sanctuary." We stood in front of the door for a minute, wondering how creepy it would be to knock, before we went back downstairs—and as it happened, Jonas still lives in the apartment; Holmes is on the eleventh floor.
 "I'm convinced that she's the most fame-hungry person the world has ever seen," says someone who's worked with Holmes. Holmes's entire divorce M.O. suggests an alternative gloss on her great escape. It's implausible that Cruise's workaholic lifestyle, or the rigors of Scientology, came as any surprise to her. To embrace the portrayal of her as a victim is to deny her agency.
If Holmes felt trapped, it may have just been in someone else's movie. Promised above-the-title billing, she never managed to move beyond a supporting role. Where at 26 she found Cruise's monster life "exciting," at 33 it just made her feel smaller. And it doesn't require any overt or conscious cynicism on Holmes's part, or mean she wasn't genuinely smitten with Cruise when they wed, for her also to have expected the union to be a boon to her career.
Marrying Cruise had done wonders for Nicole Kidman, who not only became massively more famous but whose acting career took off while she and Cruise were still together. And Holmes, who already had a hit TV series to her name and a $1 million role in Batman Begins at the time of her wedding, was starting ahead of where Kidman had. Indeed, marrying Cruise did make Holmes a lot more famous—there she was on the cover of Harper's Bazaar, styled by Victoria Beckham—but it also, because of Cruise's bizarreries, drove her Q rating downward. When her character was reprised in the next Batman movie, The Dark Knight, Holmes was passed over for Maggie Gyllenhaal. She got parts in mostly small movies, but they bombed at the box office. The Times called Holmes the "weakest link" in Mad Money, and for her work in the Adam Sandler comedy Jack & Jill, she was nominated for Worst Supporting Actress at the 2011 Golden Raspberry Awards (her second nomination; she had received the first for Batman Begins).
At the same time, unfavorable comparisons between her and fellow Dawson's Creek alumna Michelle Williams became painfully inescapable. As Williams became a figure of sympathy because of her partner*(the late Heath Ledger), Holmes became a joke because of hers. Holmes is said (scout's honor!) to have been enraged by Williams's success. While Holmes was playing Jackie O. in a mini-series that ended up airing on Reelz—that's Channel 238 in the Time Warner NY cable system, if you're wondering—Williams was playing JFK's sometime-mistress Marilyn Monroe, in a feature film, en route to a third Oscar nomination.
But Scientology, or rather its terrible reputation, offered a way out. Holmes, unable to get the kinds of roles she wanted, realized she could cast herself in the part of a lifetime. Like Truman in The Truman Show, she finally grasped her ontological status as a character in a fiction, and that self-awareness propelled her out of the story and crashing through the fourth wall. She knew a good third-act twist when she saw one.
"It's not like she ever had a huge career to begin with. She was a rising star. Now she will have a huge career," says an editor at a leading celebrity magazine. Holmes, emerging from a seven-year, one-on-one apprenticeship with the world's most famous action hero, simply rewrote the script.
Or maybe she didn't. But what a story.     
* This article has been corrected to indicate that Heath Ledger and Michelle Williams were never married. It appeared in the July 30, 2012 issue of New York Magazine.