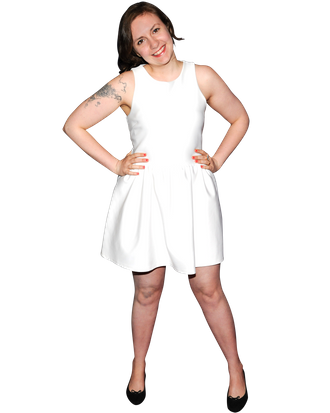 Lena Dunham.
Photo: NDREW TOTH / Patrick McMullan
In her first time at bat, Girls creator and star Lena Dunham landed four Emmy nominations. Her HBO show is up for best comedy, and Dunham herself is a contender for lead actress, director (for her work on the finale, "She Did"), and writing (for the pilot episode). In the middle of filming the show's second season, she phoned Vulture from the set to talk about her plans for tonight and her love of our Girls paper dolls. (Print out yours today!)
So how are you going to toast while you're working?

I'm already looking for a menu because I'd like to eat a burrito at lunch. Literally, the minute I found out, I said, "I'm eating a burrito. No one is going to stop me. I'm having a fucking burrito." Normally, I go more in the salad direction. I begrudgingly eat a salad and supplement it with too many nuts.
Why are burritos off-limits? They're not that bad for you.

I'm not even a burrito traditionalist. I want a whole-wheat burrito with chicken and guac and cheese and rice and lots of vegetables. I don't even want some grotesque thing that's going to make me feel like I'm about to give birth to twins. I just want something in the burrito family. There's a place near here that's going to satisfy my needs. I want to do that and then — this proves how dorky my celebration will be — I want to lie down and read all my New York Times from the week. I'm going to read my World of Interiors magazine, and I'm maybe going to eat some vegan cookies in my bed and listen to the new Ellie Goulding single over and over again. I'm saying rager. Tell all your friends.
I'm not sure if you saw our Girls paper dolls, but you could also celebrate —
[Interrupts.] I'm obsessed with the paper dolls! I'm obsessed with them. I've actually been planning to print them out on really nice paper and frame them in my office, and by my office, I mean the corner of my living room. They're so freakin' beautiful.
You're nominated in several categories, including writing and directing. Which means the most to you?

They're all unbelievably meaningful. The show being nominated is all of us being recognized for our work together and that is huge to me. I'm so deeply in love with all my collaborators and I'm so happy we have a nomination we can share together. Being nominated for directing the season finale is incredible. It was the end of the season and it was my first time doing such a marathon shoot. I was feeling a little unsteady from exhaustion in general and overeating of on-set food, so I feel like I directed it in a haze, so to know it came out in a way that people connected with is huge.
Who else have you heard from today? Any surprises?

The women in the actress in a comedy category are totally surreal. Zooey Deschanel and I have been e-mailing all morning, like, "Can you believe the women that we are getting mentioned in the same breath as?" Also, we're planning our Emmy nails.
Her tuxedo nails got plenty of attention at the Golden Globes.

She's got a lot of nail style. I mean, I have a couple ideas, too. I don't want to say … I want to shock the world with what I do, and/or be stopped from painting my nails a very strange color by my very smart and crafty publicist.
What are you shooting today?

Today we are shooting a scene that takes place in Bushwick in the studio of an artist. That's all I'm going to tell you but it may be someone that people are happy to see.
An artist — so no Patrick Wilson yet, then?

Today's not Patrick Wilson, but you will see Patrick Wilson and you will like it. I don't mean to make that sound like a sexual threat — but it also is.