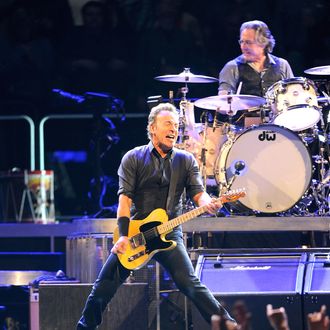 Springsteen.
Photo: Jamie McCarthy/Getty Images
It's Sunday afternoon, or: your last chance to read all that stuff you meant to read last week before Monday brings a new deluge of things you will want to read. Below, some of our recommendations:
"We Are Alive" by David Remnick (New Yorker): Checking in with Bruce Springsteen who, at 62, is still as prolific, energetic, and "preposterously fit" as ever. 
"Jersey? Sure" by Lizzy Goodman (New York Times Magazine): Speaking of Bruce: Is the Gaslight Anthem the heir to his Jersey throne? 
"Phoenixes" by Christopher Glazek (n+1): A rare piece of praise for Casey Affleck's and Joaquin Phoenix's I'm Still Here, along with a meditation on River Phoenix, Sofia Coppola, Somewhere, fraternal death, mental illness, and Hollywood psychodrama.
"Q&A: Parker Posey" by Andy Greenwald (Grantland): The actress talks about her part on Louie and "the fine line between sad and funny." 
"The Bookless Library" by David A. Bell (New Republic): What is the role of a library in a world of e-readers? 
"Amy Winehouse: 1983 - 2011" by Jenny Eliscu (Rolling Stone): A chronicle of the "sweet, maternal" singer's last years. 
For more in-depth weekend readings, visit our friends at Longreads.