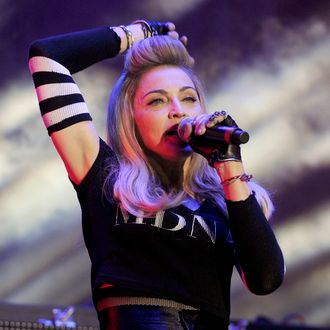 Photo: Tim Mosenfelder/Getty Images
It is 2012 and Madonna has managed to enact a variety of headline-worthy goings-on essentially every week since her Super Bowl halftime show. The latest is this: Madge arrived in Paris on Saturday and did something she'd been doing for weeks and weeks on her MDNA tour, which was to play a video montage featuring French right-winger Marine Le Pen receiving a swastika on her forehead for a millisecond. And just as Le Pen and the National Front party threatened to do if the swastika-superimposing were to find its way into France, they are suing. Other well-knowns featured in the nightly JumboTron interlude set to 2003's "Nobody Knows Me": Pope Benedict XVI, Sarah Palin, and Adolf Hitler.
Below, check out the video for yourself and determine how law-suitable the Le Pen moment, at 1:32, is. (Then ponder how this is the official MDNA Tour Moment of Legal Action, not Madonna's Istanbul nipple-flash.) Also, enjoy the rad slacklining moves — those inmate-costumed fellows are really bouncing, and those Hot Cops appear legitimately upset.