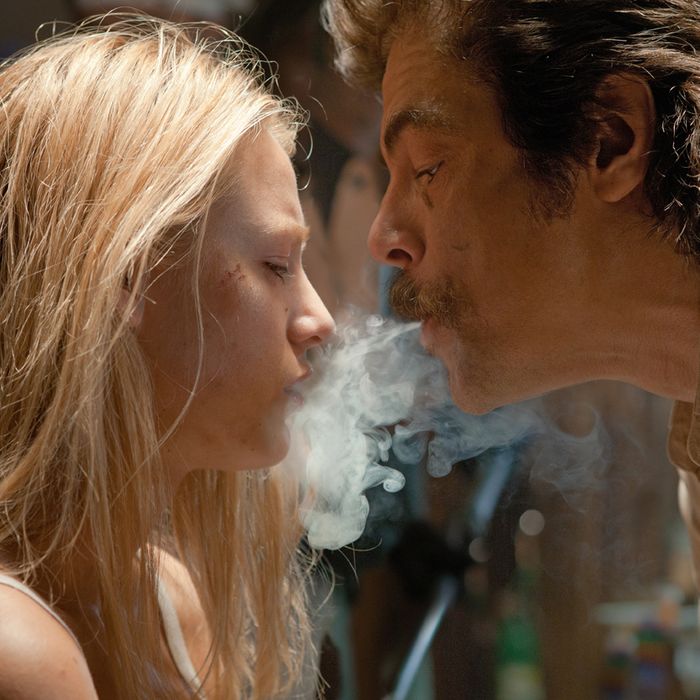 Photo: Franc?ois Duhamel/Universal Pictures
After soft-peddling sensationalism (with varying levels of success) in his last three movies, Oliver Stone is back in his element — with a new maturity — in the brutal thriller Savages. The film is impressive. It has a bit of the cinematic whoop-de-doo of his noxious Natural Born Killers, in which serial killers became existential heroes, celebrated for attaining absolute freedom. But the perspective is different: wry but mournful, the savagery never a kick. The senselessness of the carnage gets to you. You think, It doesn't have to be this way.
It is this way thanks to forces Stone explored in Wall Street: Money Never Sleeps, in which unfettered capitalism tore families apart. The principal family here is a surrogate one, a ménage à trois consisting of innovative marijuana growers Chon (Taylor Kitsch) and Ben (Aaron Taylor-Johnson) and their rich girlfriend, O (Blake Lively), short for Ophelia. (She narrates.) Ben insists he can run his business with minimal violence, using some of the profits to do good works in Africa, trusting to Chon — a knotted-up Iraq war vet — to employ force on the rare occasions it's called for. It's a remarkably gentle arrangement. O loves both men, opposites whose spirits can be said (if you'll forgive the woo-woo) to commingle inside her. But business intrudes — a video via the Internet from the Baja cartel starring a man in a skull mask and seven severed heads: "These guys were stupid. Be smarter." The Mexican cartel wants a piece of the business in return for wider distribution of the dope. The local DEA agent, Dennis (John Travolta) — who takes money from all sides — tells the boys, "Don't fuck with Wal-Mart. Embrace the change."
Fatted, his hair thinning, Travolta gives his first truly middle-aged performance and his best in years. His Dennis is amoral but not inhuman. He has kids to feed and a wife dying of cancer. Everyone has a family to support, even the scariest assassin, Lado (Benicio Del Toro), who doles out grisly punishments with chilling precision. Del Toro's face is all dark hollows, as if his coal-black eyes had scorched his own visage in the mirror. His boss, Elena (Salma Hayek), took over the cartel after the deaths of her husband and sons. If this were a Quentin Tarantino movie, the character would be camp, a mythic revenger, but Hayek gets the balance between public shows of power and private woe just right. Of her precious daughter, the only family left, she says, "She's ashamed of me and I'm proud of her for it."
Savages is based on a book by Don Winslow that reads like notes for the screenplay he co-wrote with Shane Salerno* and Stone. (There's a thank-you to Stone in the acknowledgements.) The plotting loosens in the second half, but that's part of the film's integrity: The emotional crosscurrents force the melodrama off the usual tracks. Kidnapped by Elena, the impatient, entitled O doesn't stand on ceremony. She gets close to her captor, to the point where Elena almost — almost — treats her like a daughter.
But if the characters recognize their common humanity, it doesn't stop them from killing. As Ben the idealist does ghastly things to save O and the carnage ramps up, you feel an infernal machine at work. It's business.
There's a weird two-fer ending, by the way: The book's finale and one more on top of it. It's a puzzler but not a letdown. How do you resolve a movie as irresolvable as Savages without seeming glib? This way, the high-as-a-kite way.
*An earlier version of this post incorrectly identified Shane Salerno as Steve Salerno.