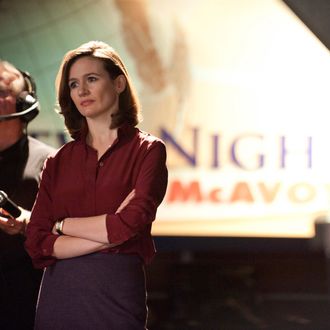 Photo: Melissa Moseley/HBO
HBO has already renewed The Newsroom for a second season, but that's no reason to stop obsessively tracking the show's ratings, just like they do in the real world of cable news. And while we'll try to not get too dramatic over week-to-week fluctuations, the week two numbers for the show weren't that great. Per Nielsen, episode two of Aaron Sorkin's latest TV endeavor fell to 1.7 million viewers Sunday, down roughly 20 percent from its premiere. Among viewers under 50, the drop-off was more dramatic, with Newsroom plummeting 30 percent (from a 1.0 rating in the demo to a 0.7) and losing to The Real Housewives of New Jersey, Army Wives, and some random movie on FX.
The heavy guns on Bravo and Lifetime may also be contributing to the show's continued gender gap: Newsroom ranked No. 33 among cable series Sunday among women under 50, but it was No. 6 with men of the same age. Another factor this week was likely intense competition from the BET Awards, which featured a Whitney Houston tribute and lured 7.4 million viewers (down a tick from last year's Bieber-boosted 7.7 million). If The Newsroom were on a broadcast network, this week's declines would be cause for modest concern, particularly since last week's premiere numbers were more "good" than "great." But HBO has trained its subscribers to look for multiple repeats of its shows throughout the week or to view via its HBO On Demand or HBO GO platforms, so until all those numbers are in, it's really impossible to know whether this week's drop-off is a sign of viewers opting out, or simply deciding to watch the show on their own timetable.