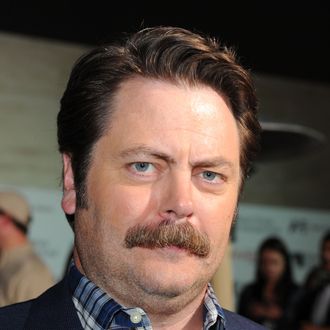 Photo: Alberto E. Rodriguez/2011 Getty Images
Just when you thought Nick Offerman interviews were all starting to blend together, here comes GQ's sitdown with the man that is Ron Swanson. It turns out the fount of Offerman wisdom is far from dry. In addition to recommending writer Wendell Berry and admitting that he quit Twitter because it was too addictive, he shared these, among other thoughts:
On Dan Harmon getting canned from Community:
"It was crazy, but not surprising. Dan has been notoriously difficult with NBC. And then he had that really public Chevy Chase feud. I think Dan is brilliant, but we all kind of hung our heads and thought, That's no way for a boss to behave."
On his dream car:
"I would like nothing more than to get a '68 Chevelle convertible. That's my dream — to be Matthew McConaughey's character in Dazed and Confused."
On his and his wife Megan Mullally's affection for Glen Campbell:
I mean, we're Americans so, like oxygen and food, we love Glen Campbell.
On music choices:
"My ultimate soundtrack for lovemaking is Peter Gabriel's Passion: Music for The Last Temptation of Christ. … It depends on your personal timing and cycles of climax but it has some very languid, you know, drawn-out tracks for foreplay, culminating in some blood-curdling screams with driving tribal drums."