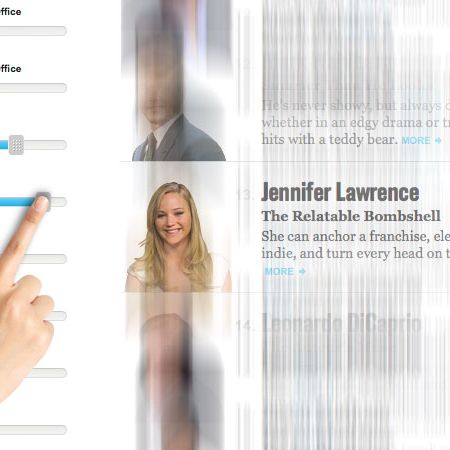 Everybody's got an opinion on Vulture's carefully calculated Most Valuable Stars list — who's too high, who's too low, and who should be on the list next year — but one of the most fun features is that you can customize the list at will with our handy-dandy levers for each stat. We've already told you how we measured and weighted all of our criteria, but if you think the Critics' Score should be more important? Bump it up! Want to find out whom audiences find most appealing? Push up the Likeability meter! And the more you mix and match these statistics, the more likely you are to make some revealing discoveries. For example …  
1. Everybody loves Jason Statham!
One of the most fun statistics to play around with is the Likeability lever: Drop every other stat to zero and toggle Likeability to its maximum, and you'll have a great idea whom general audiences adore, as provided by market research firm E-Poll. (E-Poll measured the percentage of people who were not only aware of a celebrity, but selected "Like A Lot" or "Like" to describe their attitude toward that person.) For example: Jason Statham is the third most-liked person on this list! And though veteran actors seem to have the highest Likeability scores (Clint Eastwood, Robert De Niro, Liam Neeson, and Tom Hanks are all in the top ten), there are some high-scoring up-and-comers, too. The best-liked twentysomething performer, for example? Mila Kunis, who beat out competition Emma Stone and Jennifer Lawrence; long-running roles on That 70's Show and Family Guy probably helped. And Melissa McCarthy's strong showing at No. 22 is proof that studios are right to be building new movies around her; it'll be a perfect storm of Likeability when her currently shooting comedy with Sandra Bullock comes out, as Bullock placed at No. 1.
2. … But the Twilight crew is more divisive.
All three Twilight leads — Kristen Stewart, Robert Pattinson, and Taylor Lautner — place in the bottom ten on the Likeability chart, since men aren't fond of the female-courting franchise. (Of the three, Lautner counted as the most-liked, for what it's worth. Dem abs!) Men aren't favorably disposed to Zac Efron or Justin Timberlake, either, since both languish in the Likeability cellar alongside divisive personalities like Sean Penn and Tom Cruise.
3. Still, Kristen Stewart does utterly dominate one statistic.
If you crank up the lever for Magazine Covers to its maximum, Stewart ranks at No. 1. Audiences may not love her, but they sure want to know about her. (She also places sixth on the Tabloid Value list.)
4. Speaking of Tabloid Value …
It shouldn't be a surprise, but women totally dominate the list when Tabloid Value is prioritized, taking seven of the top ten spots. (Only eight men appear in the top twenty most gossiped-about, though they take fifteen of those spots on the normal list.) Jennifer Aniston jumps from No. 44 to No. 3 when gossip is prioritized, topped only by the two tabloid targets she'll always be tied to: Brad Pitt and Angelina Jolie. Pitt and Jolie are also the only stars to make the top ten on both the regular and gossip lists.
5. Women are under-represented.
If you need more proof that Hollywood caters little to the distaff half of its audience, check out these dispiriting stats: Only 30 of the 100 Most Valuable Stars were women. Just two ranked in the top 10 — Angelina Jolie and Meryl Streep — while fourteen made the top 50.
6. And women of color are really under-represented.
Remember when Halle Berry and Jennifer Lopez were two of the biggest actresses in Hollywood? Sadly, as their fortunes faded, Hollywood got more homogenous, and though there are several non-white men on the Most Valuable Stars list, Zoe Saldana is almost single-handedly repping women of color.
7. Comedians can't always hack it abroad.
Adam Sandler makes the top ten when you push the Domestic Box Office lever to the limit, but if you instead favor Overseas Box Office, he drops to No. 25. Meanwhile, Tina Fey, Kristen Wiig, and Jonah Hill all fall significantly when Overseas Box Office is the only stat measured, though no one drops more than Tyler Perry, who doesn't even bother releasing most of his movies abroad. (He ranks at No. 100.) Overseas Box Office favors action stars the most, as actors like Vin Diesel, Bruce Willis, and Sylvester Stallone make big climbs; something tells us that grunts are easier to dub in foreign countries.
8. What critically adored actors are actually bankable?
Here's a test: On the one hand, we'll crank up the Oscars and Critics' Score levers, and on the other, we'll measure only Domestic and Overseas Box Office. How far down do you have to go to find someone who ranks highly on both lists? Not a single star makes both top tens, though Christian Bale (ranked No. 5 on the critical acclaim list and No. 13 on the box-office list) comes closest. Two other stars make both top twenties: Robert Downey Jr. and Angelina Jolie.
9. Meanwhile, which critically acclaimed actors have yet to score an Oscar nomination?
If you rig one list's Critics' Score and another list's Oscar value, it brings good tidings for Tom Hardy, who scores No. 4 on the critics' list but has never managed an Oscar nod. Here's the biggest shocker, though: Meryl Streep obviously dominates the Oscar list, but when it comes to critical respect, she falls all the way down to No. 39. La Streep, ranked under Paul Rudd, Seth Rogen, and Jason Segel? How could it be? Blame a brutally reviewed string of Streep films starting in 2007 that included Rendition, Lions for Lambs, Dark Matter, and Mamma Mia.