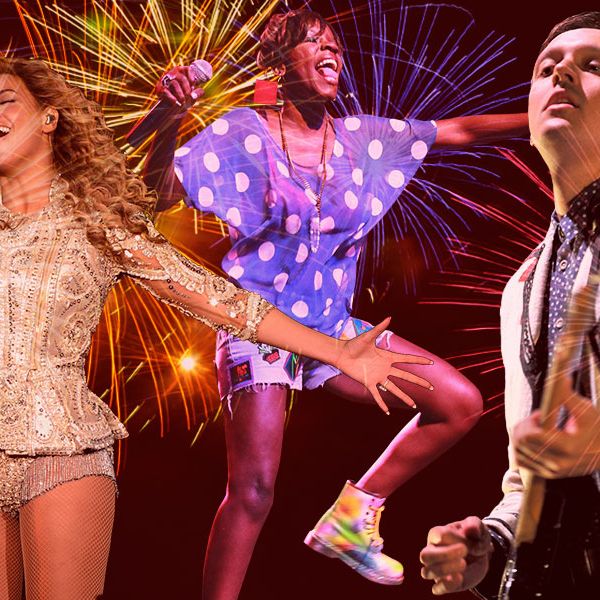 Photo: Kevin Mazur/WireImage, Astrid Stawiarz/Getty, and C Flanigan/Getty
In honor of America's 236th birthday, here are five newer versions of five Fourth of July classics, for your barbecue or fireworks soundtrack. (Stay safe! Wear goggles.)
"Party in the USA" – Rye Rye
With all due respect to the Miley original — "hopped off the plane at LAX with a dream and my cardigan" is still the greatest summary of the American Dream this millennium, for my money — Rye Rye's remix is a smash. Runner up: Jimmy Fallon, as Neil Young, with Crosby and Nash.
"God Bless the USA" – Beyoncé
Beyoncé is proud to be an American. The rest of us are also proud that Beyoncé is an American. (FYI, the Chipmunks also did a Lee Greenwood cover, if you have kids or a death wish. Do you.)
"This Land Is Your Land" – Sharon Jones and the Dap Kings
For the revolutionaries among you. Also, that bass line — come on. U-S-A!
"Born in the USA" – Arcade Fire
Win Butler is from Texas, and this song isn't so much about aggressive nationalism anyway. (That's two jams for the protesters.) Arcade Fire performed this one at the 2009 Staff Inaugural Ball for Obama.
"1812 Overture" – The Brian Setzer Orchestra
I'm sorry about this. But technically the "1812 Overture" was written to commemorate Russia's victory over Napoleon and not the fireworks display over the Hudson. You better believe that the Brian Setzer Orchestra is American enough to convert it, though. Enjoy the explosions!