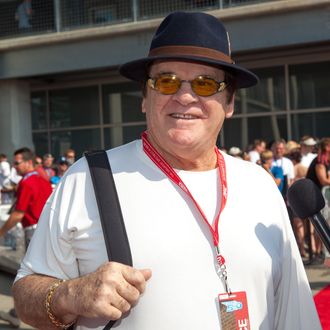 Baseball legend Pete Rose attends the 2012 Indianapolis 500 at Indianapolis Motorspeedway on May 27, 2012 in Indianapolis, Indiana.
Photo: Joey Foley/Getty Images
Hit king Pete Rose is getting a TLC reality show. According to EW, Rose and his fiancée are currently filming a series about their relationship (he's 71; she's 31), their families (he has four grown children; she has two young children), and their lives (he lives in Vegas; she lives in L.A). "It's not going to be classless," Rose vows, which is just about the best possible thing Pete Rose could say, and yes, the series will include a family trip to the Baseball Hall of Fame. The working title for the show is Pete Rose and Kiana Kim Family Project, but if this is called anything other than Pete Rose: Safe at Home, something has gone seriously wrong.