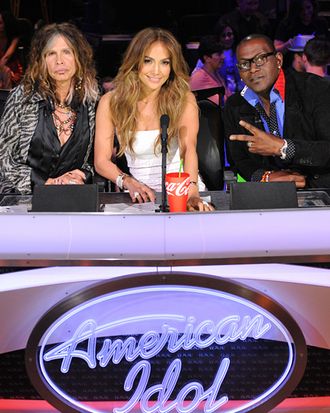 AMERICAN IDOL: L-R: Steven Tyler, Jennifer Lopez and Randy jackson on AMERICAN IDOL airing Tuesday, Feb. 28 (8:00-10:00 PM ET/PT) on FOX.
Photo: Michael Becker/FOX
Now that Steven Tyler is leaving Idol, and Jennifer Lopez seems to be leaving as well, it's time to turn our attention to Randy Jackson. The Us Weekly rumor mill says Jackson is on his way out, too, though he could segue into a mentoring role and not leave the show completely. All those in favor of a total Idol overhaul say "aye." Aye.