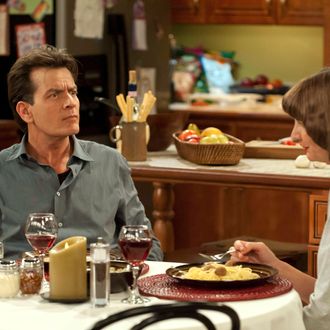 ANGER MANAGEMENT: Episode 2: Charlie and the Slumpbuster (Airs June 28, 9:30 pm e/p). L-R: Charlie Sheen as Charlie Goodson and Kerri Kenney as Mel.
Photo: Prashant Gupta/FX Network
After record ratings for the FX premiere of Charlie Sheen's wholly predicable Anger Management, Deadline reports that last week's episode saw a 38 percent loss in viewership. Its 3.37 million viewers is still pretty healthy, and the all-important 18-49 demographic did see a sizable uptick, but it's going to take consistent numbers for Sheen to get the 90-episode renewal and full-on comeback he's hoping for.