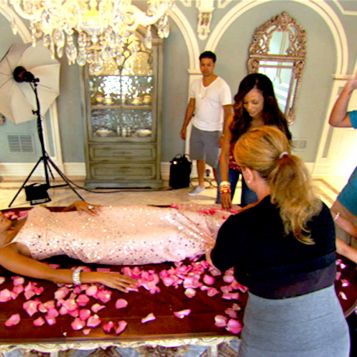 "Call me a sucker, but I believe that we're good," says Melissa Gorga toward the end of this episode, the One Where They Fight About Baking. Although she's referring to her relationship with Teresa Giudice, she really could be discussing the moral relativism of everyone on The Real Housewives of the Sopranos — living in a vacuum of turnpikes, monthly home renovations, and (with the exception of dear Richie) scary, bulgy husbands. Furthermore, science also hasn't yet tackled whether the ubiquity of hair weaves (all in the same shade, 3A: Darkest Brown) can tug on the brain hard enough to cause a community Salem effect.
During this week's episode, there is a heavily Photoshopped promo during which Inside the Actors Studio host James Lipton spikes a volleyball at Caroline Manzo.
A Bottle in Front of Me or a Frontal Lobotomy?*
The Giudices are on their way to play mixologist, because Teresa thinks she has something essential to add to the world of bellinis: specifically, a fabellini. ("I want to brand myself," explains Tre, who adds that she might also make "Teresa" aprons.) There is also some bickering over Joe Gorga's temporarily lost wallet, which can be summed up by telling you that Joe Giudice left his wallet in the car of a woman he's probably not not sleeping with.
The science and study of winemaking and mixing is "oenology." Never say you can't learn some culture from the Real Housewives franchise along with a variety of new and interesting styles to shave into your pubic hair.
"I've been researching ingredientses [sic]," Tre tells the oenologist. I'm not understanding why the Giudices can't just buy some Tropicana and cranberry juice and Champagne and do this at home. Is it because Gia knows the liquor cabinet combination? Is it because Joe Guidice would turn green and crash through a wall if he consumed any more Vitamin C? Is it because of Vitamin C's hit single "Graduation (Friends Forever)"?
Juicy Joe's Goofus Guido antics are embarrassing Teresa and she feels like the oenologist and his assistant are looking at her funny, which they are, but it's probably because they're wondering where the rest of her forehead went.
Hiss and Leer, Listen Here
At the Gorga manse, Corté Ellis Apparates over (as he is wont to do) to discuss moving forward with Melissa's career now that she's a massive success (read: performed one Auto-Tune-plastic-sex-robot ditty song at an obscure festival called Slamsoup or Tunesock or Beatstock). He suggests that they begin talking to record labels.
WHERE WE'RE GOING, WE DON'T NEED ROADS, argues Joe Gorga, who wants to remain the sole 'roid-demented captain at the helm of his wife's career, but Còrtę Éllïs is like, "No, you actually need roads, though, and I know someone at a record label who is going to help you out because the constructs of this program dictate that we are not allowed to acknowledge that Melissa Gorga is an abysmal performer."
"Everything is for sale with Joe Gorga. 'My house is for sale, my wife is for sale,'" Melissa screeches in a jocular tone of voice even though this belies a dark and terrible truth about their marriage.
The first order of business is for Melissa to do a photo shoot. "It's hard for me to be cocky," she says as she climbs onto a table with rose petals, clad in a pink sequined fishtail dress you could see from space. Then she lies there stiffly, like a nyotaimori woman covered in Ke$ha's glitter dandruff, and waits to get famous.
Joe Gorga says he likes it when his wife acts like a porn star in public.
Am I famous yet? Melissa asks the camera, with her face.
Čörtę!
Soul of Ballad, Bowl of Salad
1. On the Manzo end of things, Lauren wants her new business to launch in the same building that she had her last failed business, and her enthusiasm coerces Caroline into securing the property. But she cautions Lauren: "The fat lady didn't sing, so don't get excited."
And then, ladies and gentlemen, Lauren sings. Like the caged bird she is. Except we all know why, basically.
2. Jacqueline is involved with Lauren's aforementioned business because she is a licensed cosmetologist, which duly impresses the Manzo women. At lunch, Jacqueline and Lauren investigate the cutting edge of mineral makeup for Caface, which is still, incredibly, named Caface (but is now being pitched as "Sephora with services" rather than the less-appealing "It's like a café, for your face!").
A fey man attempts to pitch the ladies, and Jacqueline orders some kind of drink called a Screaming Orgasm.
"She has almost too much knowledge in her brain. She's always reading," Lauren says of Jacqueline. A few moments later, she says that Jacqueline is also "the kind of person who would get a squirrel Vajazzled on her."
Lack of Pies, Pack of Lies
Tre drags Joe Giudice to a book signing at a bakery, during which Caroline predicts that the Giudice marriage will not last and then Tre will have a "real book in there," somewhere. It would be hilarious if Tre turned out to be this amazing, critically acclaimed Mary Karr–ish memoirist but threw in more jokes about how Caroline is "about as Italian as the Olive Garden."
The pastry war to which I referred earlier occurs when Kathy and Richie show up at the book signing and Kathy exclaims that Tre used her family dessert recipes in the book, which Tre takes as disrespect and Kathy is annoyed by, because her dessert show at Gelottis is occurring the following day.
Gelottis is right next to a cemetery. We're all going to die eventually.
Kathy's whole family helps out with prepping for the dessert thing, and all of the pastries are named after them, which is adorable, and they should give classes to the other families on how to lovingly function instead of derping around dysfunctionally and spitting Chateau Diana on each other. 
"Some people use your niceness to walk all over you, and Tre is a classic case," Richie tells his wife, correctly. I like your glasses and the cut of your jib, Richie.
On the way to the show, Linda (?) asks Tre if she's gonna call Kathy out on stealing her recipes. Who the fuck is Linda? Everyone else seems as confused about this as we are. It turns out that Linda is Tre's henchman — appropriately, because she sort of has the look of a Manson girl.
"Sometimes I see really skinny girls, and they look great, but they're not happy. Have a cupcake," says Kathy. She should talk to Lauren! Instead, she talks to Mr. Gelotti or whatever. He likes her dessert show.
Tre and Kathy have a little skirmish about the recipes. Jacqueline and Tre awkwardly discuss the last few weeks as Mortal Enemies and what sort of effect being Mortal Enemies will have on the Napa trip.
The Pun Fart (The Fun Part)
Poor Chris Manzo Chris Laurita, who each week appears with a more serious case of acid reflux from trying to run a business amid this maelstrom of shit, calls a "man meeting" about Napa and all of the scary bulky husbands gather in a basement to play a verbal game of Settlers of Catan with their wives' social lives and be assholes.
"When did you pop your cherry?" asks Joe Gorga of the table, and nobody is able to give an honest answer without joking, because nobody has ever had sex, because everyone has been on steroids since before their balls descended. Except Richie.
The Tre-Jacq feud thing is touched on, as is the Tre–Joe Gorga tension, but Joe Giudice's lone brain cell rejects the idea that anyone should know better than him. Joe Giudice accuses Joe Gorga of being a user because he stole his tools. He is referring to actual tools, which he needed to then go out and replace, but he "doesn't hate [Joe Gorga]" because of that.
Touchingly, while this is going on (because one of the editors on this show has a real sense of pathos), Tre and Jacqueline are chained to the laundry rooms in their respective houses washing their kids' Juicy Couture onesies and shit.
"How do you know how to say money already?!" Tre asks her toddler daughter Milania, and this is where I leave you.
*This recap was written in honor of National Spoonerism Day, which occurred July 22, the day this episode aired; a spoonerism is an error in speech or deliberate play on words in which corresponding consonants, vowels, or morphemes are switched.