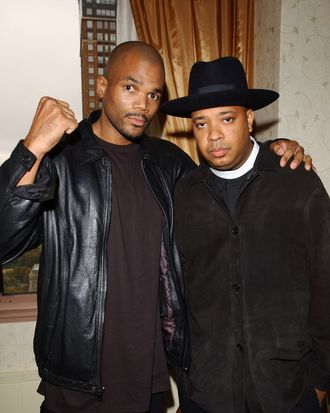 Joseph "Run" Simmons and Darryl "DMC" McDaniel of Run DMC before the press conference to announce a coalition to support the family of Jam Master Jay at the Rhiga Royal Hotel in New York City, November 6, 2002. Jay, real name Jason Mizell was shot and killed on October 30 in Queens, New York. Photo by Frank Micelotta/ImageDirect.
Photo: Frank Micelotta
Joseph "(Rev) Run" Simmons and Daryl "DMC" McDaniels will perform together — for the first time since the 2002 death of Jam-Master Jay — at Austin's Fun Fun Fun Fest this November. Congrats, people of Texas (and travel-ready Run-D.M.C. fans, we guess).