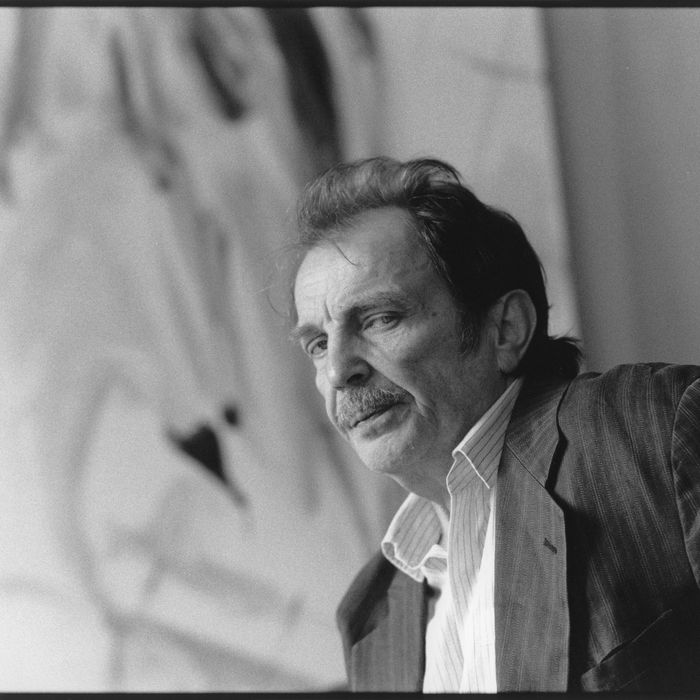 Franz West in 2002.
Photo: Imagno/Getty Images
Franz West, the hard-living Austrian maestro-Mephistopheles of organic sculptures that veer between excremental visions, demonic beanstalks, sex toys for creatures from other dimensions — a great anti-formalist and colorist in his own right — died yesterday at 65. I met him once, in the early nineties, and he was so grizzled and gassed I thought he was 65 then.
West became known in the seventies, a time when few European artists, let alone Austrian ones, could make much of a dent on the international art scene. I have vague memories from back then of seeing his work and thinking WTF? Using papier-mâché, plaster, wire, wood, straw, and who-knows-what, topped off with scads of white paint, West made medium-size and portable abstract sculptures that come out of the sketchy semi-dead-and-alive figures of Giacometti, the bulbous constructions of early Claes Oldenburg, the smashed-up shapes of John Chamberlain, Cy Twombly's weird white anti-classical sculptures, and his own high disregard for high-art pretensions. His was a hewed mayhem that was all his own but somehow Austrian. There were sculptures that looked like mutant furniture, tables sprouting insectlike genitals or seeming to bend over on all fours, as if sexually presenting themselves. Whatever they were doing it was wildly unlike anything else going on at the time and made you think that if De Sade made art it might look like this. Yet none of West's gestures felt like gratuitous Dada gestures. Never one to let anyone else's rules take precedence, he now and then had these sculptures carried around by nude women.
Somehow he must have gotten through the eighties. At one point, I thought he had already died. All this changed at Documenta IX, in 1992, where West created Auditorium, one of the most memorable, mysteriously simple, and influential sculptural installations I've seen. This work essentially paved a path to the movement that became known as Relational Aesthetics, works that were simultaneously art but one bodily participated in. Auditorium was a rowed arrangement of 72 couches made of steel rebar and covered with Turkish carpets and a couple of foam bolsters. It was in what's now a parking lot by the main site of the exhibition, and it turned the world into a movie theater, making café culture slow down to something like hanging out. I still remember lounging with my wife, lying down on these semi-comfortable maybe-ugly possibly-beautiful couches, always trying to get comfortable, having lunches, and taking one exhibition catnap. West was simultaneously making sculpture, theater, tapping into crafts like furniture design and weaving, and even choreographing this ever-evolving social situation. I loved it. In 1994, Dia installed the sculpture on its roof for a year or so. There it continued to change art and people's days. Mine included.
After that, even as we heard tales of West quitting galleries in a huff, acting out at museum dinners, dancing on tables — the whole Germanic thing — he was a consistent presence on the scene. He had big shows in museums and galleries and collaborated with other hard-living artists like his fellow lord-of-chaos, the late Jason Rhodes. Naked chicks were in his work as well. Without West there's no Rachel Harrison and much of the so-called un-Monumental art of the mid-aughts. West was an elephantine influence by the time he died. His career isn't punk or being against. It is about finding the complex orders in disorder, the austerity in topsy-turviness, giving boisterous lift to the id and permission to himself, his audiences, and his objects to create all the unrestrained elbow room needed.