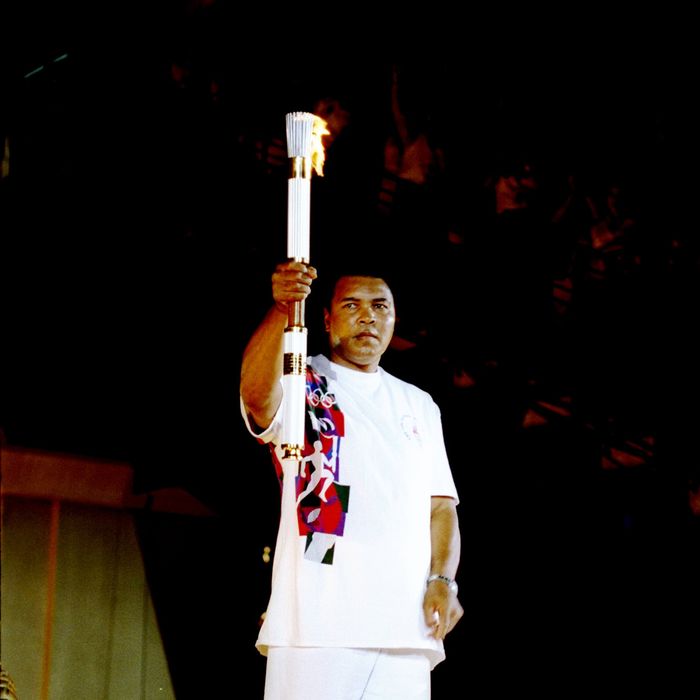 Photo: Michael Cooper/Allsport
Seitz Asks: What is your favorite Olympic moment?
Seitz Answers: Ali lighting the torch at the 1996 Opening Ceremony
The Olympics torch-lighting (which will take place this Friday during the 2012 Summer Olympics opening ceremony) is always stirring, but there was something singularly powerful about the 1996 ceremony in Atlanta, which climaxed with former gold medalist Muhammad Ali lighting the torch.
I don't think anyone but the participants knew that the Greatest was going to finish things off. I watched the coverage with a small group of friends, and when Ali appeared at the top of that ramp, there was a collective intake of breath followed by applause and tears. And when Ali slowly turned and lit the torch — head inclined, hands shaking from Parkinson's disease, the "Ode to Joy" chorus of Beethoven's Ninth Symphony blasting — it was overwhelming. The moment was bigger than sports, Ali, or the Olympic games. I've seen a lot of astonishing moments during Olympics coverage, but this one will always be the greatest for me, and not just because the Greatest was involved.
We watch the Olympics to appreciate talent and discipline, root for fellow citizens to take home medals, and see individuals experience what the announcer on ABC's Wide World of Sports used to call "the thrill of victory … the agony of defeat." But the sight of Ali standing there at age 54 holding the Olympic torch, hands trembling from Parkinson's disease, transcended all of that. The image made me think of how much Ali had experienced and achieved, and how our memory of those experiences and achievements continued to resonate even as Ali's body aged and illness took hold, and will continue to resonate after he's gone. The image told me that there's more to a person than flesh — that the body, however beautiful or disciplined, is but a vessel containing our true essence. I don't know what that essence is — I don't think anyone does — but I think I got a glimpse of it at the very end of the ceremony, when the flame left the torch that Ali had lit and climbed through the air, flickering as it rose.
What is your favorite Olympic TV moment?