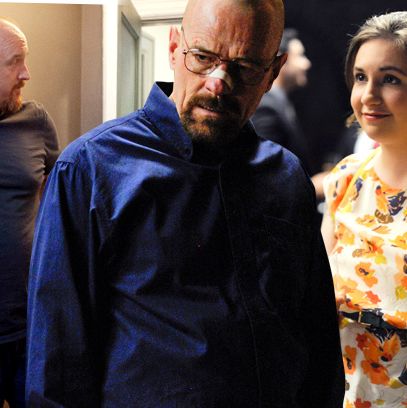 Bitching about the Emmy nominations is a beloved tradition, but it's hard to get too worked up over any single category because scripted TV is so creatively healthy right now. (For a rundown of nominees, click here.) This is a far cry from when I first started covering TV about fifteen years ago, and you'd see, say, ER or NYPD Blue or Frasier or Friends getting nominated over and over and over again every friggin' year, as if the Emmy voters were filling out ballots out of sense memory.
Yes, it stinks that Louie, Community, Parks and Recreation, and Raising Hope didn't get nominated as best comedy, but the six sitcoms that did (The Big Bang Theory, Curb Your Enthusiasm, Girls, Modern Family, 30 Rock, Veep) are a very solid bunch; I was especially glad to see Girls do so well across the board in its first season. The only show that probably ended up on the list out of reflex is NBC's 30 Rock, which had a bum year, and note that the vastly cruddier The Office didn't make it in, either.
The Good Wife, Sons of Anarchy, and Justified didn't get nominated in the drama category, nor did HBO's Luck and Starz's Boss, which, whatever their flaws, were ambitious and often dazzlingly original. But when I peruse the list of dramas that did get nods, I'm mostly impressed. I can't make a compelling argument for booting any of them out to make room for a show that got snubbed. Boardwalk Empire, Breaking Bad, Downton Abbey, Game of Thrones, Homeland, and Mad Men are all mostly superb; when Boardwalk is the creative weak sister in a category, the category is in fine shape. 
Outstanding movie or miniseries, same deal: American Horror Story, Hatfield and McCoys, Hemingway & Gellhorn, Luther, and Sherlock: A Scandal in Belgravia are all strong (I like Hemingway & Gellhorn much more than most of my colleagues, mainly for its direction, cinematography, and editing — all stunning). I can't see kicking any of those out to make room for, say, Game Change, The Hour, or The Song of Lunch, even though in an alternate universe I can picture them sitting comfortably in this category.
My main objection to this category is definitional. The word miniseries needs to be clarified so that producers don't try to pull a fast one and submit a prematurely canceled series as a miniseries, which is how Ashley Judd ended up being nominated as best actress in that category for Missing. I'm against that nomination not because I didn't like her performance (I did!), but because this was clearly intended to be a potential series. American Horror Story, on the other hand, really is a miniseries, telling a new self-contained story each season and putting its actors in new roles. Luther and Sherlock are likewise series, albeit ones with short runs, so maybe this is a distinction without a difference. The difference in production method between the U.S. and the U.K. (where a lot of nominees in this category originated) accounts for a lot of the confusion and definitional tomfoolery. I'd love to argue about this in the comments section if any of you are game; maybe together we can hash out a decent solution.
Gut-check predictions in major categories:
Drama: Mad Men, again. Yes, yes, it's won four years running, time to share the wealth, time to honor Breaking Bad, etc. I'm with you, believe me. But for crying out loud, just look at season five. It's new-level amazing. Not even Homeland, the next most creatively innovative series, can't claim to have outdone Matthew Weiner and company in season five of Mad Men. I can't even object to the series hogging three of the writing nominations. "The Other Woman," "Commissions and Fees," and "Far-Away Places" were all ferociously good scripts, maybe as good in their own distinctive ways as season four's "The Suitcase." That said, the "Weekend" episode of Homeland should have gotten a nomination somehow, and I prefer that episode to the series' pilot.
Comedy: Girls will take it, and not just because, for a variety of reasons, it was almost impossible to go online and not encounter people arguing about it, denigrating it, praising it, nitpicking it, etc. It's Zeigeist-y, the show of the moment; that it's excellent as well makes it a natural to take the top prize.
Movie or Miniseries: I dunno, guys … Consensus right now seems to be in favor of American Horror Story (based on a totally unscientific polling of my colleagues), but Hatfields and McCoys was subtle, grim, drolly funny, and unfashionably unglamorous, and it did shockingly well for a program about grimy hillbillies murdering each other for stupid reasons. Besides, I can't see the Academy of Television Arts and Sciences giving the prize to a show featuring a faceless, ghostly rapist in a black rubber bodysuit.  
Reality Series: Mythbusters needs to take the plain-vanilla "Outstanding Reality Series" category. I'd be happy with The Voice or Dancing With the Stars triumphing in the sister category, competitive reality show; they both have the buzz that American Idol had about ten years ago.
My personal favorite nominations are:
Giancarlo Esposito as best supporting actor in a drama for Breaking Bad. One of the first original gangster characters in a very long time, and Esposito's best acting since 1994's Fresh.
Jeremy Davies as best guest actor on a drama series, as Dickie Bennett on Justified. I know a lot of people who think this performance is just too much in every way. But that's the point of it. He's this generation's Crispin Glover. Old Italian grandmothers look at his performance on Justified and think, You're gesturing with your hands too much. There is a place for this. It's fun.
Jessica Lange and Frances Conroy for American Horror Story. Lange needs to win, period. Her kabuki ditz freakazoid Blanche DuBois–from-Mars thing was brilliant. It might be the role she was put on earth to play.
Amy Poehler as best actress in a comedy for Parks and Recreation, which did not get the love it deserved, methinks.
Michael J. Fox as outstanding guest actor in a comedy series, for playing himself on Curb Your Enthusiasm. Best meta-guest-starring gig on a comedy since David Duchovny flashed Garry Shandling on The Larry Sanders Show.
Louis C.K. as best director for the extra-long "Duckling" episode of Louie. That said, Robert B. Weide's work on Curb Your Enthusiasm's "Palestinean Chicken" — one of that series' more outrageous, corrosively funny episodes — was just as fine, though tonally light-years away from C.K.'s work.
Loretta Devine as outstanding guest actress on a drama, for playing Adele Webber on Grey's Anatomy. This woman is one of America's finest living actresses, and she's in peak form here.
Outstanding direction for nonfiction programming needs to go to Joe Berlinger and Bruce Sinofsky for Paradise Lost 3: Purgatory. It's the final chapter in an astounding series, practically the crime doc version of Michael Apted's

Up

series, though the filmmakers surely never intended them that way.
Outstanding writing for a nonfiction program should go to American Masters' Johnny Carson special. It's not the biggest, most powerful, or controversial subject, but it's a terrific explanation of how one performer shaped his persona and maintained it over time. If I were an acting teacher, I'd require all my students to watch it. It's got more insight into this process than a whole season of Inside the Actors Studio.
The snubs that made me maddest are:
No Martha Plimpton for Raising Hope? What the frig?
Game of Thrones needed to score more nominations in every eligible category. It's one of the best put-together series I've ever seen. Writing, direction, photography, acting, editing — all routinely dazzling. There is an accolade penalty for people who devote themselves to genre storytelling. Battlestar Galactica suffered from it, as did Buffy. It's real. No point denying it.
No Parks and Recreation or Community as best comedy? I know I mentioned these higher up, but come on.
The shut-out of HBO's Luck, a uniquely ambitious drama canceled due to horse safety issues, depresses me. Certain kinds of shows just don't have a chance.

*
No Walton Goggins as best supporting actor on Justified? This is much more irritating than the absence of John Slattery for Mad Men, which at least got honored extensively in many categories. Goggins's performance as hero Raylan Givens's frenemy Boyd Crowder is consistently the most surprising performance in an ongoing drama. I never know quite what to think of this character, or feel toward him, and Goggins's weird intensity is the reason why. He's equally credible as a cheerful, devout reformer and a cold-eyed snake who'd just as soon kill you as look at you.
*This article has been corrected: it initially discussed the Emmy snub of HBO's Treme. The show was not eligible this year because it split its season over two eligibility periods and elected to submit in the first (2010-11).