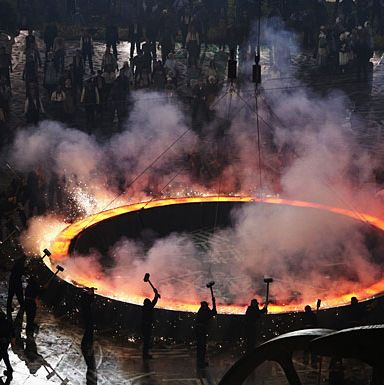 (Richard Heathcote/Getty Images)
Photo: Richard Heathcote/2012 Getty Images
Danny Boyle did a bang-up job with the 2012 Olympics opening ceremony considering what he was up against. And I don't just mean the Slumdog Millionaire director's jumpy style, or the fact that he had to follow Beijing, a totalitarian command performance that made Leni Riefenstahl weep tears of envy in hell. The Olympics opening ceremony is theater, music, pageantry, cinema, history, and advertising, all at once. Talk about cognitive dissonance: I'm surprised the telecasts don't end with the directors' heads exploding.
The 2012 opening ceremony — tape-delayed by NBC yesterday, with frequent ad breaks — won't win medals for neatness. Long stretches were nearly ruined by skittish editing, especially the salute to English fairy tales, portions of which suggested the Halloween parade as covered by roller-skating pedophiles. But all in all, this was a striking piece of work, even if you weren't grading on a Beijing curve. Though it was made for $47 million, half the budget of China's blowout, it felt suitably huge. But it was also eccentric and self-deprecating, adjectives rarely used in reference to the Olympics.
Boyle dubbed the ceremony "Isle of Dreams." Kenneth Branagh, in character as industrial revolutionary Isambard Brunel, quoted Shakespeare's The Tempest. The Bard's play obliquely reappeared during the torch lighting, which was scored to the newly commissioned "Caliban's Dream." In a pre-taped sketch that segued into live stagecraft, Daniel Craig's James Bond escorted the Queen of England to a helicopter as corgis skittered underfoot, then parachuted into the stadium with the 86-year old monarch. (That both divers were obvious stunt doubles made the gag funnier.) In the fairy-tale tribute, J.K. Rowling read from Peter Pan, moppets on trampoline beds were menaced by creepy villains (including a 40-foot Voldemort puppet), and a squadron of Mary Poppinses flew in on parasols to set things right. Rowan Atkinson's Mr. Bean bumbled through a keyboard rendition of the Chariots of Fire theme, then joined runners in a slapstick race. Footballers Jade Bailey and David Beckham delivered the Olympic torch via speedboat to Britain's most decorated athlete, rower Steven Redgrave. Redgrave's torch lit the torches of seven young athletes chosen for "exceptional promise,"who in turn lit 204 copper "petals" that converged to form a cauldron. A low-angled shot from inside the cauldron evoked a dandelion gone supernova.
Underworld, whose "Born Slippy" was featured in the soundtrack to Boyle's film Trainspotting, served as musical directors. Their playlist saluted a half-century of British pop. Paul McCartney, 70 and sounding like it, closed things out with covers of "The End" and "Hey Jude." In between there were nods to The Beatles, Elton John, the Rolling Stones, Pink Floyd, the Who, The Zutons and Blur, among others. Arctic Monkeys performed their hit "I Bet You Look Good on the Dance Floor", then eased into "Come Together." The UK contingent entered the stadium to David Bowie's "Heroes." Dizzee Rascal did a live cover of his hit "Bonkers." Now the Queen can cross that off her bucket list.
The night's biggest surprise was a number showing Britain's evolution from pastoral realm to manufacturing power and empire-builder. A countryside dotted with ruddy-faced "peasants" and real sheep was transformed into a steampunk empire by industrialists, then eroded by economic decline and postwar malaise. The evening's narrative offered economic redemption through digital technology: World Wide Web inventor Sir Tim Berners-Lee tweeted "This is for everyone," a message that appeared in lighted letters on the stadium's upper deck. But even after Sir Paul's affable sign-off, the image of England as purgatorial furnace lingered in the mind. The industrial number's climax showed workers forging Olympic rings that rose into the sky and rained fire on them. A brief, haunting closeup caught a goggled worker with flames reflected in his lenses.
"The most leftie opening ceremony I have ever seen – more than Beijing, the capital of a communist state!" tweeted sacked Tory MP Aidan Burley. "Welfare tribute next?" There was another touchy bit that Americans didn't get to see: a musical tribute to victims of the 7/7 terror attacks, and war victims in general, with Scotland's Emeli Sandé singing "Abide With Me." NBC cut away from it to show Ryan Seacrest interviewing Michael Phelps. Way to go, Peacock.
The mix of comedy, music, tackiness, bombast, and social criticism made "Isle of Dreams" play like the longest, weirdest, most Anglophilic Oscar night production number ever. Its looseness rescued it from Beijing's shadow and made its excesses more charming than oppressive. Danny Boyle built a mountain from a hill of English beans, then drew a smiley face on it.