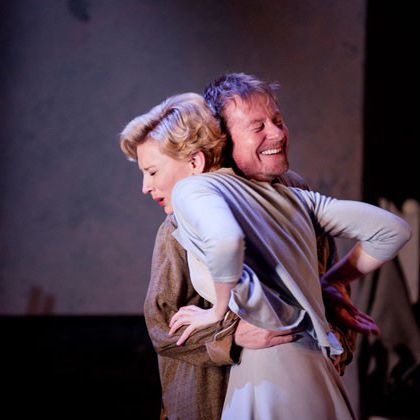 There must be an upper limit on the total Vanyage New York can bear: How many star-pocked productions of Uncle Vanya have we been instructed not to miss in the last couple of seasons alone? Well, deepest apologies, but here's another for you: Renowned Chekhovist Tamás Ascher directs Cate Blanchett and a company of A-list Aussies from the Sydney Theatre Company in a grand new production at the Lincoln Center Festival. Richard Roxburgh, in full Prufrockian seethe, is our Vanya, a pouty clown with India-rubber reflexes, totally doomed yet damned bouncy about it. (If you're looking for the polar opposite of Reed Birney's tragic-sweater grumpy-gus at Soho Rep, this performance is likely it.) Hugo Weaving strikes minimalist-comedy gold as the Saturnine Dr. Astrov, and Blanchett is their mutual obsession, bored, beautiful, and badly married Yelena. (Serpentine in a series of stunning dresses, Blanchett purposefully wrong-foots her regal, ravishing poise again and again — she's a genuinely gifted physical comedienne, and her key tipsy scene with Hayley McElhinney's open-hearted Sonya is a comic mini-ballet.)
As the summer wanes and the vodka drains, this plainspoken, punch-drunk, near-slapstick Vanya — equal parts Preston Sturges and Ingmar Bergman — delights and devastates, carefully tickling out ribs before ripping out our hearts. It's not the most soulful Vanya ever devised, and one could argue that some of Ascher's precisely staged shenanigans and physical "business" get in the way of the pathos. I, for one, found the whole thing bracing, as if someone had thrown open a window and let out the miasma of arthritic Chekhovs past, the productions you accrue over the years from bad college productions and RSI (repertory stress injury). This probably shouldn't be your Vanya to end all Vanyas — but luckily, in this town, with this kind of surplus, there's little chance of that.
Uncle Vanya is at City Center through July 29.