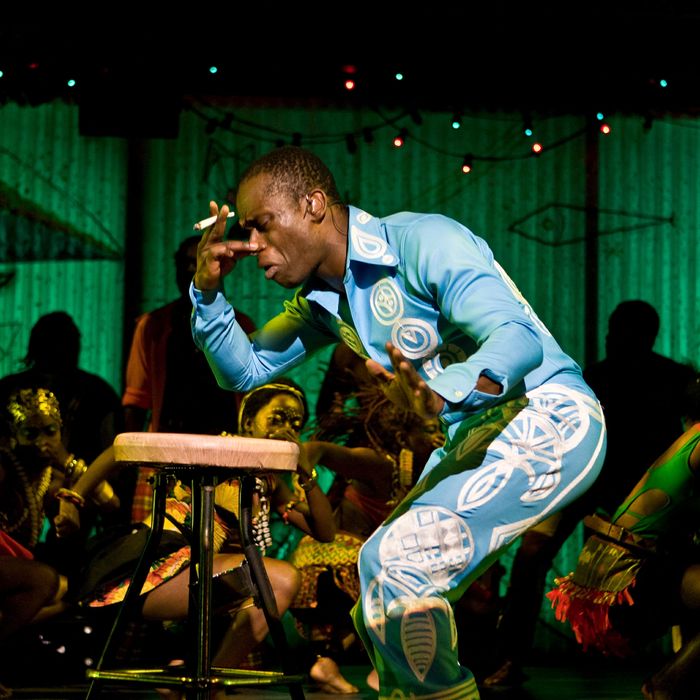 Sahr Ngaujah in "Fela!," back in New York at the Al Hirschfeld.
Photo: Tristram Kenton
Fela! (at the Al Hirschfeld Theatre through August 4)
Fela!, back in town for a limited summer engagement, is once again raising the median temperature of midtown. Director-choreographer Bill T. Jones's concertized life of Fela Anikulapo-Kuti, innovator of Afrobeat, enthusiastic pan-Africanist, and and perpetual thorn in the side of the oppressive, petrolcratic Nigerian government, has lost none of its relentless musical thrust and ornery lefty gumption. Nor has it fixed its sagging second act—not a fatal flaw, but a noticeable one, as the show concludes in an extended, hypnogogic descent into the underworld, where Fela communes with his murdered mother, Funilmayo (Melanie Marshall). Fela! is at its best when its multitalented star, Sahr Ngaujah, is in full contact with the audience. His wry embodiment of Fela — defiantly bemused, even in the face of harassment and torture — goads and charms the uninitiated with a full-body primer on African music (traditional, pop, and everything in between), as well as the political and cultural realities that gave it life. The songs themselves ("Coffin for Head of State," "I.T.T. (International Thief Thief)") are  extraordinary documents, pop-treatises that distill righteous fury and abundant irony in infectious rhythm. Sure, certain rather-enormous details have been discreetly smoothed over. (Fela's polygamy, the subject of serious feminist debate, becomes little more than a charm-number, and his death from AIDS receives no attention.) But this isn't a biography; it's a glorious, horn-flashing wake. It's also political theater at $125 a pop, an irony Fela himself probably would've relished.
Serious Money (at the Atlantic Stage 2 through July 29)
Potomac Theater Project, the outfit that brought us last year's extraordinary production of Howard Barker's Victory: Choices in Reaction, is back with the work of another brainy Brit who's most underproduced here in the States. Caryl Churchill's Serious Money is a tall order for any company, Anglo or Yank: It plunges into its subject — the newly deregulated London financial jungle of the Thatcher era — with scholarly avidity and genre-twisting madness, as formal experimentation jostles against massively-informed reportage. A scabrous satire of money and the truly bestial animal-spirits it unleashes, the play comes with its own late-eighties lexicon of "Oik" trader-ese and financespeak. It's organized (absurdly, with heavy winks) around a murder investigation: Saucy trader Scilla (Tara Giordano, flashing a raptor smile) is looking into the mysterious death of her brother (Mat Nakitare), an upper-class mover and shaker whose business dealings took him down some dark alleys. Suspects include the Carl Icahn–esque corporate raider (Alex Draper), the drawling arbitrageur from the heartland (Megan Byrne), and the shady, slinky Peruvian investress (Jeanne LaSala Taylor) — was it Colonel Milken with the junk bonds on the trading floor? (Remember when junk bonds were the enemy? Ah, we were so young. And this play, for all its contemporary resonance, shows its age.) Serious Money is practically Stoppardian in its density and freewheelingly Churchillian in its absurdity, and these two threads don't always braid particularly well. It's a difficult play to digest, as the "mystery" is a nonsense-collage as ridiculously tortuous as the financial sector itself, and the characters (most of them double-cast) are intentionally disposable and difficult to keep straight. (The atavistic musical sequences have a gibbering insanity to them that I appreciated … for the first three verses.) Serious Money is recommended mostly for serious theatergoers and die-hard Churchillians, as well as anyone who'd enjoy a nightmare reunion tour of the ways we got ourselves into this mess.
Spiegelworld: Empire (in a tent at 265 West 45th Street)
Do you enjoy your Cirque du Soleil, but wish it had more penis humor? Do you dream of sitting close enough to smell the greasepaint, to see the strain on each individual tendon and study the expressions of pained concentration on each face? Well, Spiegelworld: Empire is Dirty Cirque, derring-do plus burlesque, and all of it close-up and pungent. The acts are death-defying and the comedy is taste-defying: the rowdy, all-American clown-hosts, contortionist comedienne Anne Goldmann and brazen Jonathan Taylor, have a Weimar flair for outre sex jokes and audience-ribbing. Plus, the whole production is apparently union-defying, lending an air of enticingly repellent peril. The performance ring itself is smaller than a Palm Springs coffee table: When Vladimir Putin orders a table-dance, this is probably what he gets. By the end of the show, the tiny O has contained multitudes of mind-blowingly talented performers seemingly intent on doing themselves harm. You haven't lived (or nearly died) until you've been mere feet from the whirling skates of a statuesque roller-batic duo (Roma Hervida and Sven Rauhe), or watched what appears to be a very young child (Yonas Alemu) launched high into the air, then foot-juggled by his partner (Tariku Degefa) like a barrel. For a grand finale, a gentleman known only as Rigolo builds an enormous mobile out of what appear to be pterodactyl bones, connected and upheld by nothing but perfect balance. That's the whole show in a nutshell: One false move and the magic would dissipate. Perhaps an ambulance would be called. But hey, all great empires are based on trust. And luck. And a well-timed dick joke.