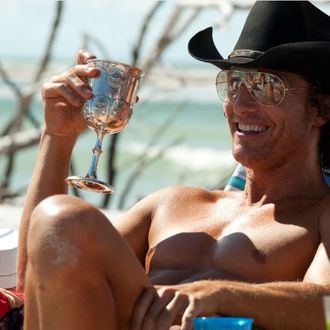 Matthew McConaughey in 'Magic Mike.'
Photo: Warner Bros
It's Sunday afternoon, or: your last chance to read all that stuff you meant to read last week before Monday brings a new deluge of things you will want to read. Below, some of our recommendations:
"The Rake's Progress: A Midcareer Leap for McConaughey," by Dennis Lim (New York Times): A look at how one of the big screen's favorite golden boys became "a genre unto himself."  
"Interview: Dirty Projectors," by Brandon Stosuy (Pitchfork): Front man David Longstreth on his band's new, more personal album (Swing Lo Magellan), Nicki Minaj, Kanye West, and his directorial debut. 
"On Uncle Vayna, Part I, II, and III," by Clancy Martin (Paris Review Daily): A review of Sam Gold's new production of the Chekhov classic (on at the Soho Rep) sandwiched in between a really good story about drinking in Saint Petersburg, a bear, and one man's attempt to sleep with a Russian waitress. 
"My Stephen King Problem: A Snob's Notes," by Dwight Allen (Los Angeles Review of Books): Since 2000, Stephen King's blockbuster career has received critical approval from the The New Yorker and the New York Times, but this writer and critic still finds him unworthy of literary accolades.
"The Rise of the 'Girly' Narrative," by Anna North (Buzzfeed): Sure, Girls is a hit, but will "girly" stories ever be taken seriously? 
"Thank You for Killing My Novel," by Patrick Somerville (Salon): After the New York Times' critic Janet Maslin slammed Somerville's latest novel, the book's protagonist engages in a 38 e-mail back-and-forth with an apologetic Times editor.
"A Legend As Big As the Ritz," by A.E. Hotchner (Vanity Fair): A chronicle of the 114-year-old hotel and its very devoted clientele, which included Ernest Hemingway, Sophia Loren, Coco Chanel, Scott and Zelda Fitzgerald, Cole Porter, and Ingrid Bergman. 
For more in-depth weekend readings, visit our friends at Longreads.