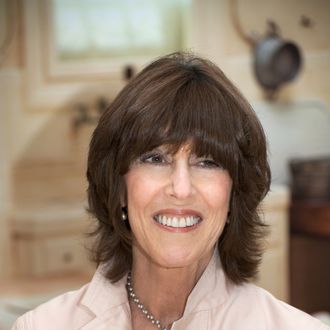 Nora Ephron.
Photo: Vera Anderson/WireImage
It's Sunday afternoon, or: your last chance to read all that stuff you meant to read last week before Monday brings a new deluge of things you will want to read. Below, some of our recommendations:
"Writer and Filmmaker With a Genius for Humor" by Charles McGrath (New York Times):  A longtime friend's obituary of Nora Ephron chronicles her incomparable tabloid-to-magazine-to-Hollywood career, and some of her favorite things: her kids, taking a bath, and "coming over the bridge to Manhattan." Also worth a look: John Blumenthal's memories of Ephron's flirty paling around, Lena Dunham on their brief but rich friendship, and Noreen Malone on "Nora Ephron feminism."
"Feeling About Half Past Dead: Down in the Basement With What's Left of The Band" by Michael H. Miller (New York Observer): On the legacy of The Band, and what a reunion performance looks like when only two members are still around.
"The Lost Projects of Louis C.K." by Bradford Evans (Splitsider): An exhaustive roundup of all the TV gigs, pilots, and movies that didn't work out for comedy's current golden boy.
"Spider-Man co-star: Like Hamlet, hero 'begs us to revisit'" by Steven Zeitchik (Hero Complex/L.A. Times): Welsh actor Rhys Ifans, who plays reptilian villain Curt Connors in the latest Spidey reboot, on how the franchise maintains its archetypal appeal.
"Wes Anderson" by Ryan Dombal (Pitchfork): An interview with Anderson and his all-important music supervisor Randall Poster on making the soundtrack for Moonrise Kingdom.
"Q&A: Matt Taibbi on the 40th Anniversary of Fear and Loathing on the Campaign Trail '72, Hunter S. Thompson's Influence, and Why Barack Obama Isn't a Great Shark," by Eric Sunderman (Village Voice): The Rolling Stone writer remembers his one phone conversation with Thompson, and discusses the overlooked importance of hyperbole.
For more in-depth weekend readings, visit our friends at Longreads.