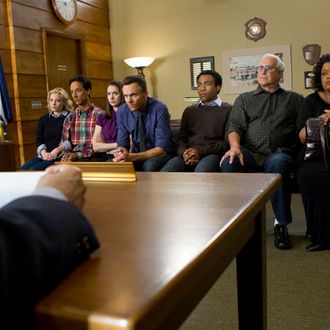 It's not often that the head of a network gets onstage and shouts, "We're No. 3!" But when you're coming from the depths to which NBC had sunk — namely, being stuck at the bottom of the Nielsens for the better part of a decade — third place is actually something of an improvement, which is why Peacock chief Bob Greenblatt used his TV Critics Association press tour session with reporters Tuesday to tout what otherwise might be seen as a dubious accomplishment. "We're very happy we were No. 3 for the season in [adults] 18 to 49," he said, adding that the network ranks No. 2 for the season in adults under 35. What Greenblatt didn't mention, of course, is that it was the Super Bowl that pushed NBC out of the ratings basement and that said game will air on CBS next winter. That said, Greenblatt is counting on another major sporting event to keep the Peacock's mini-momentum going: the Olympics.
Greenblatt said viewers of the London Games can expect to be barraged with "dozens of promos" specially created for the Olympics, all designed to sell audiences on new shows such as Revolution and Animal Practice. He's also scheduled a six-minute trailer for the new J.J. Abrams drama Revolution to air as part of NBC's August 4 coverage of the swimming competition, on top of previously announced Olympics-adjacent (and full-length) previews of comedies Go On and Animal Practice. "We have this incredible promotional platform, and we're going to take advantage of it," he said.
As for news, Greenblatt made very little of it during his session. He confirmed what Vulture expected back in June: Saturday Night Live will again produce some election-themed prime-time specials; so far, two are scheduled, for September 20 and September 27. The exec further said that all of NBC's new shows will be available to stream for up to two weeks before their official on-air debuts.
Greenblatt also stated the obvious: If Community does reasonably well in its new Friday time slot, he's open to bringing it back for either more than thirteen episodes this season, or a fifth season. "I would love nothing more than for Community to find a following on Friday," he said. (Some TV industry insiders, by the way, are convinced NBC will have a last-second change of heart and decide to save both Community and Whitney for midseason rather than air them on Fridays. The Peacock has yet to wave from its announced schedule.) Greenblatt once again addressed the firing of Community creator Dan Harmon, albeit never once mentioning his name. "Every once in a while it's time to make a change with a showrunner," he said, adding that fans of the show "are going to get the same show they've loved from the beginning." Just with 100 percent less Dan Harmon.