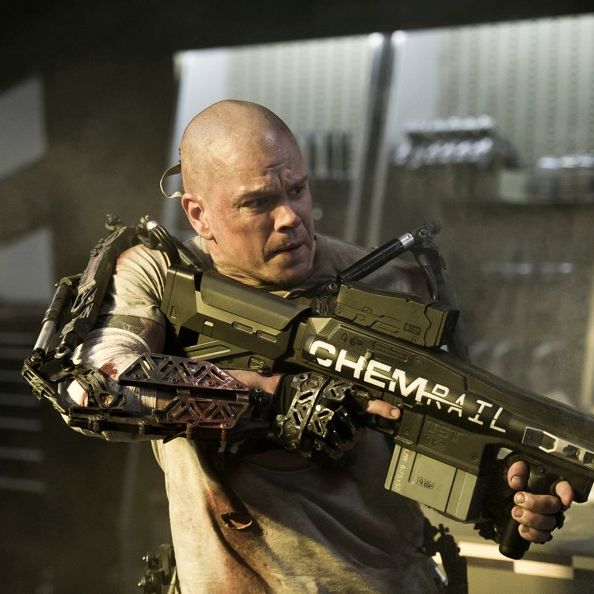 Comic-Con gets under way in San Diego with a special preview night tonight, and Vulture will be on the ground for the rest of the week delivering scoops, interviews, and reactions. This year, some of the biggest guns to come in genre filmmaking (like Star Trek 2 and The Dark Knight Rises) are skipping the Con, but there are still plenty of movie properties we're excited for, and Q&As for some of the most heavily hyped shows on television should more than help fill the gap. What are this year's ten can't-miss panels? Read on and find out.
Elysium
Neill Blomkamp made his feature directorial debut on District 9, the sci-fi sleeper hit that transcended its genre and earned a Best Picture nomination. Needless to say, expectations are high for Blomkamp's follow-up effort, especially since he eschewed the expected District 9 sequel to mount something big and original. Not too much is known about Elysium aside from the fact that it stars a machine-gun-wielding Matt Damon, Jodie Foster, and Sharlto Copley; we can't wait to learn more during Blomkamp's Comic-Con panel.
Community
What will NBC's cult comedy look like without creator Dan Harmon at the helm? Can its new showrunners win over Community's devoted, skeptical audience? And does a Friday time slot spell doom? There are some big questions surrounding Community this year, so we expect this panel (which will feature most of the cast members and the new executive producers) to be a hot ticket.
Marvel
Jon Favreau always understood the importance of a good Comic-Con showing, and though he's not at the helm of the Iron Man franchise anymore, we imagine that Marvel and director Shane Black will have some good footage to show of the currently shooting Iron Man 3. Beyond that, Marvel is expected to announce the details of its 2014 film Guardians of the Galaxy, and dare we hope they also reveal that Joss Whedon is coming back for The Avengers 2?
Twilight: Breaking Dawn, Part II
It's the end of an era: For years, the Twilight panel at Comic-Con has delivered the Con's most dedicated, distaff audience, but the franchise will make its last heralded appearance in San Diego tomorrow, when Breaking Dawn, Part II delivers Kristen Stewart, Robert Pattinson, and Taylor Lautner to Hall H for one last time. (One wonders whether Lionsgate may pick up the slack and bring The Hunger Games: Catching Fire there next year.)
Oz, the Great and Powerful
There hasn't been a Sam Raimi–directed movie since 2009's Drag Me to Hell, so we're jonesing for Oz, the Great and Powerful, Raimi's Wizard of Oz prequel due for release next year. Yes, it's yet another megabudget fairy tale, but with a cast including James Franco, Mila Kunis, and Michelle Williams, plus Raimi's enthusiastic directing, we've got our fingers crossed for something magical.
Game of Thrones
The HBO fantasy drama has become such a huge hit in two seasons that Comic-Con organizers have wisely moved its panel to the cavernous Hall H. Since shooting hasn't commenced on season three, this event will be more like a victory lap for its last run of episodes, but it's possible that some new casting announcements will be made.
Warner Bros.
If there's one can't-miss panel, it's got to be this one. Studios will often pad out their Comic-Con panels with filler movies that don't feel right for the Con's sci-fi/fantasy sensibilities, but WB's presentation is killer: The studio will be showing the first footage from highly anticipated titles Man of Steel (Zack Snyder's new Superman installment) and Pacific Rim (from director Guillermo del Toro), plus 3-D footage from Peter Jackson's The Hobbit, which split audiences at Cinema Con with its revolutionary new 48fps shooting style.
The Walking Dead
The AMC zombie drama gets huge ratings, but some have carped about its slow storytelling. Still, even naysayers are excited about the upcoming season, which introduces fan favorite characters Michonne and The Governor. In addition to the show's Hall H panel, AMC will be holding zombie/survivor simulation games in San Diego all weekend.
Breaking Bad
The end is nigh for Breaking Bad, which starts to air its final batch of episodes starting this Sunday. The day before, though, Bryan Cranston and Aaron Paul will be present as the season-five premiere screens at Comic-Con. We'd put even money on a surprise guest like Giancarlo Esposito strolling over from the Revolution panel to ask the boys a question at the Q&A.
Django Unchained
Does slave western Django Unchained really feel like a Comic-Con movie? Maybe not, but even the most diehard movie nerds at the Con would be hard-pressed to top director Quentin Tarantino's cinematic recall, and with Tarantino holding court and showing new clips from his highly anticipated, gonzo Django, who's going to complain?