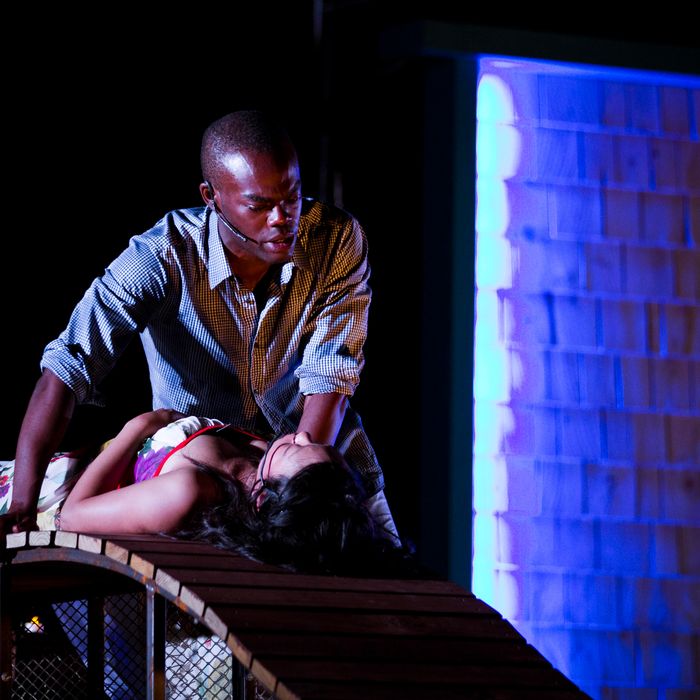 Summer is the silly season in theater, when Shakespeare starts popping up in parks and parking lots and a theatergoer's thoughts turn to sweet, stunned mush. Some shows swan-dive eagerly into this fricassee of entropy; others manage to keep more than a modicum of cool, despite the swelter.   

Into the latter category falls Joanna Settle's grooving, Stew-fueled Romeo and Juliet, the fruit of her fourth year as artistic director of Shakespeare on the Sound. Under Settle (In Darfur, The Total Bent), SoS has morphed from treasured Connecticut outdoor-theater tradition to innovative company. The chief brief remains crowd-pleasing, but Settle takes her summer fun seriously — and she has the talent pool (and the budget allocation) to do the kind of work on a Greenwich green that would be taken seriously indoors or out, in any season, in any venue. Her R&J begins with a brief, almost extraneous posy-of-a-prologue written by rocker Stew (Passing Strange), establishing the play as a tipsy poetry-reading held on the waterside deck of a wealthy architect (Tony Torn) and his much-younger wife (Ali Ahn).
Among the guests is the wife's ex-boyfriend, a penniless hipster-poet (William Jackson Harper). When she assigns herself Juliet and the poet Romeo — and gives her husband the part of Capulet, Juliet's hidebound father — the age-old civil strife achieves the unique savagery of a Nutmeg State garden party, with drinks, canapes, dueling sabres, and drams of poison all circulating on silver trays. Could all of this have been suggested in song and with direction, instead of delivered with riskier, more distracting textual additions? Quite possibly. Ultimately, it doesn't matter much. Stew and partner Heidi Rodewald's primary contributions are their infectious pop-rock loops and underscoring (some of it prerecorded, much of it performed by the actors themselves), which incorporate the iambic pentameter of select speeches in jazzy grooves and work an enveloping spell on groundlings and players alike. (I challenge you to eject "In Fair Verona," his governing leitmotif, from your memory banks.)

Harper, with his oaky voice, wiry frame, and a bone structure cut like the lapels of a sharp suit, is one of the more appealing, intriguing Romeos I've seen. So many actors play the impetuous, besotted young Montague as a goofball, fortune's fool; Harper stakes his portrayal on Romeo-the-player, a guy desperately trying to preserve his cool. He begins the show merely playing the heartbroken loverman; he winds up becoming the real thing, and dying of it. Ahn takes a while to warm up her Juliet, but she comes alive in the balcony scene, marvelously staged across a vast expanse of lawn. As a skeavy Mercutio, Matt Citron has "Stranger Danger" written all over him. (During his more, shall we say, gesture-laden speeches, the face-painted kids on their picnic blankets looked genuinely concerned, as did their parents.)     
Rachel Holmes's Tybalt — who's also the poet's current girlfriend, and none too happy about his playing Romeo — gives the old family grudge a personal savor. Chinasa Agbuagu is a riot as Juliet's dotty, enabling Nurse, and Damian Lemar Hudson sings us sweetly through the carnage, taking the lead vocals on Stew and Rodewald's primary themes. Interpretations of the text are relaxedly contemporary throughout; it may not be the most textually rigorous R&J you'll have seen, but Settle's taken more literary care than you'd expect for a production mounted within sight of Port-o-Johns. Her challenge here isn't raising the stakes from fable of star-crossed love to admonitory parable of social enmity; it's adjusting the level of peril to fit both a cocktail party and murder-suicide. Turns out, they're compatible — but a lesser light at the helm might not have pulled that off. It's worth a half-day and a short Metro North ride to see how she does it.

Romeo and Juliet, presented by Shakespeare on the Sound, is playing in Greenwich's Roger Sherman Baldwin Park through July 8 and Rowayton's Pinkney Park July 18 through July 29.