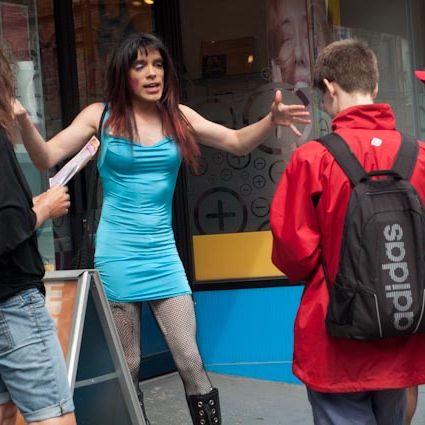 Ricardo Perez Gonzales as drag queen Vinnie the Mouth in The Lombardi Case 1975
Photo: Sekita Ekrek
Over on the lighter side of summer theater, genetically engineered dinosaurs are growing troublesome new penises (and singing about them), junkie hookers are (once again) dying grisly deaths on the Lower East Side, and the entire Harry Potter series is being condensed into 70 minutes of agreeable British clowning.
Let's start with those spontaneous dino-dongs (a very good place to start, to paraphrase Catholic doctrine). Triassic Parq: The Musical makes no attempt to disguise its origins as a chintzy, cheeky Fringe champ. (It took top honors in 2010.) Here, the events of Jurassic Park are (very loosely) reimagined from the dinosaurs' perspective. Fans may recall that all the dinos in Jurassic Park were genetically designed to be female; they may also recall that this plan, like so many others, went awry, and males began to develop spontaneously, thanks to a mistake in the Park scientists' patched-together DNA recipe. At any rate: As the curtain rises, an Edenic absence of sex and the magic-seeming provision of unlimited goat meat has given rise to a religion among the carnivores. Its chief pastor is Velociraptor of Faith (Wade McCollum). But when one of the T-Rexes (Claire Neumann) grows a phallus, our ingenue, Velociraptor of Innocence (Alex Wyse), has questions — questions that lead her to short-circuit the electric fence and seek out the Velociraptor of Science (Lindsay Nicole Chambers), a deep- and free-thinker whose apothegms include "The S in science stands for 'Suck My Dick.'" Morgan Freeman (Lee Seymour) narrates, for semi-obscure and fully ridiculous reasons; gifted physical comedian Brandon Espinoza is the resident "Mime-a-Saurus."

Triassic is the creation of writer-composer-director Marshall Pailet, and it is (to use a technical term) dumb as all hell. But this is fully committed stupidity, and a few of the tunes ("It's a Beautiful Day to Be a Woman") are quite a bit catchier than they need to be. Many jokes fall more or less flat. (Fringe-y pop-culture tweaking feels like ancient ritual at this point, and the interchangeable-black-actor theme is especially tired.) But this is a case of superabundant cast talent and enthusiasm filling the deep gulfs of mere college blackbox nonsense. I can't imagine Triassic existing anywhere but the lustily musty Soho Playhouse; until the next Charles Busch show comes along, 'tis enough, 'twill serve. As the program advises: Get drunk first. And try your best to sit in the splash zone.

If you're looking for more family-friendly summer idiocy, I can recommend Potted Potter, a two-man, 70-minute reduction of all the Harry Potter books into a low-tech, interactive clown act suitable for both happily ignorant Muggles and obsessively in-the-know wizard types. The straight-man and self-proclaimed Potter expert is Daniel Clarkson; his doofus adjutant is Jefferson Turner. The pair are more Laurel and Hardy than Harry and Voldemort as they bumble through the now-familiar Rowling mythos, using puppets, puns, and beach balls to achieve what Hollywood spent millions in special effects manifesting on the screen. This isn't really a speed-through: Clarkson and Turner blithely skip hundreds of pages of plot, instead embarking on a number of digressions (including a long, wonderfully fruitless Quidditch match). They get by almost exclusively on their bouncy Blighty charm and corny music-hall shamelessness, and, more discerning viewers will notice, they're not card-carrying superfans of the series. For children, the joy is watching two grown men worship their idol in their own shambolic fashion; for adults, there's a much-needed acknowledgement of the story's weaknesses. (First up: Harry Potter is, himself, a supremely irritating character. Second: The books are mostly "filler." Third: Quidditch is an awful, pointless game.) Not that any of this will matter to just matriculating wizards, who'll thrill to every reference — and may even win the chance to stomp on a grown man dressed as a Golden Snitch.   

For older children, immature adults, and everyone who's ready to graduate from Tony and Tina's Wedding, the Live In Theater company presents a pair of murder mysteries staged on the streets of Chinatown and the Lower East Side. Thugs, pimps, and whores are tougher and tougher to find on the streets of Manhattan, Craigslist being what it is; when one does run across these characters, chances are they're, well, characters. And if you're below Houston and The Ride megabus is nowhere in sight, chances are you've stumbled on one of Carlo D'Amore's u-solve-it street-theater experiences.
The Ryan Case, 1873 is based on an actual unsolved murder of two Irish immigrants; The Lombardi Case 1975 is more loosely composited. Both put various unfortunates back on the ever-more-sanitary streets of New York in period dress; teams of audience members, armed with maps, photos, and notepads, are charged with tracking them down, shaking them down, and presenting their findings to a bellowing, belittling police chief (played by Thomas McKarthy in 1873, Tom Staggs in 1975). Decades of police procedurals haven't taught audiences much about police work, and the cases often need a significant push from the actors, all of whom are indefatigable good sports, in all kinds of weather. (The Ryan folks, in their nineteenth-century woolens, deserve special hazard pay in this weather.) This would be fairly cheesy, dinner-theater stuff were it not for D'Amore's commitment to a certain threshold of grit and his actors' courageous willingness to engage with their surroundings, including confused-looking bystanders. (The sight of Alena Acker, draped in petticoats, selling coal at Grand and Forsythe and calling out greetings and admonitions to various fresh-off-the-boat "Seans" and "Seamuses" — all of them recent Asian immigrants — is wonderfully surreal.) Occasionally, audience groups will bypass the actor entirely — or actively avoid him, if he's a bit too convincing as a gibbering vagrant. (This happened to performer Victor Pagan, who plays a toothless street prophet, on the day I attended.) Live In Theater isn't exactly reinventing the participatory murder-mystery, immersive theater, or street performance — but by combining all three, they give us a new way to appreciate their greatest asset: the neighborhood itself. Buildings can be preserved, but who's looking after the vintage scum? Live In deserves some sort of citation for not just managing the decay, but revivifying it.

Triassic Parq is at the Soho Playhouse through August 5.
Potted Potter is playing at the Little Shubert through September 2.
The Lombardi Case 1975 plays every Sunday and The Ryan Case 1873 every Saturday in the Lower East Side and Chinatown through November. Go here for details.