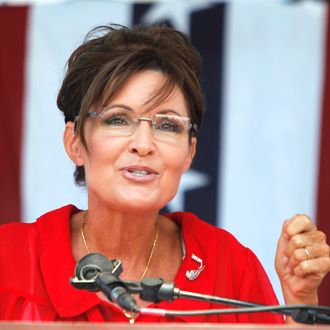 Photo: Bill Pugliano/Getty Images
Matthew Perry, the monkey from The Hangover, and Sarah Palin all walked into a bar last night. This is not the beginnings of a really bad joke. This actually happened Tuesday in Beverly Hills at the semi-annual TV Critics Association press tour. The former Friends star, Crystal the Monkey, and John McCain's former running mate were all on the guest list at an NBC bash held poolside by what remains of the Beverly Hilton's landmark Trader Vic's, and as you'd expect, all three were pretty much mobbed by reporters. Palin actually isn't starring in any new NBC show, but hubby Todd is one of the contestants on the new Peacock game show Stars Earn Stripes. A co-production of Mark Burnett and Dick Wolf (yes, the Law & Order guru), the series has folks such as Palin, Dean Cain, Nick Lachey, and Laila Ali competing in challenges designed to emulate actual military missions, all in the name of charity.
Former governor Palin seemed far more comfortable around dozens of entertainment reporters than around the average political correspondent: She held court for upwards of two hours, outlasting some of the veteran actors who'd also attended. She also looked the part of Hollywood celeb: skin-tight dress, very high heels, wrap-around sunglasses, and a deep tan. NBC public relations execs warned reporters that Palin was only there to answer questions about Stars Earn Stripes, but even with that ground rule, Vulture decided to try to snag a few minutes with the governor. We were only able to chat for three minutes before her handlers pulled her away, but during even that limited time frame, Palin managed to say the words "honor," "success," and "American exceptionalism." Always on message!
So the Palin family has now taken part in at least four reality shows since 2008. Are reality shows the new means of communications in politics, the new way to stay close to your base? I mean, Todd's not doing it for the money with Stars Earn Stripes …
I'm certainly not doing it for the money, no!
So why do you all say "yes" to these shows?
Our family's mantra is to live life vibrantly. And participating in a show like this, especially for Todd, is exactly that. It is living life vibrantly. Having the offer come from Mark Burnett, who is the best of the best, and having worked with him successfully on Sarah Palin's Alaska, [we] had a great connection with Mark to start with. That's what opened the door for us to even consider the idea of doing a show like this. But first and foremost, knowing the cause, honoring our troops and first responders … it was a no-brainer. And we had promised that we would do all that we could, through the different doors that have been opened, to honor our home state of Alaska and the resources that we have up there, that can be shared with the rest of the nation, and to honor our troops. So this show …
(A tall, athletic woman walks by and shouts, "Let's go, Sarah!")
Who was that?
That's Picabo Street!
Nobody tells the governor of Alaska what to do.
An Olympic gold medalist like Picabo does!
Do you watch any reality shows? Are there any you'd want to be on, like Survivor?
I don't have time to watch much television. When I hear you guys batting around all these names of shows, I don't know what … I like Deadliest Catch. We're commercial fishermen, but we're not that hard-core in Bristol Bay. But we like Deadliest Catch. Competition is so good, and a lot of these reality shows have a lot to do with competition. And that, of course, breeds success in all areas of life.
The campaign had to be tougher than a reality show.
Politics are brutal. Politics are brutal. But when you believe in a cause, and I believe in American exceptionalism, I'll do whatever I can to fight for that, too.