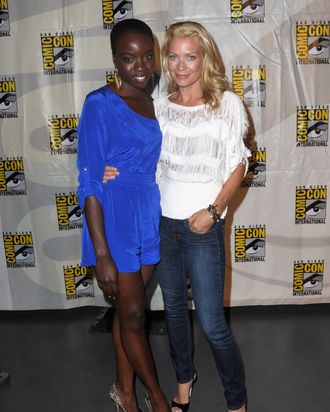 Photo: Albert L. Ortega/2012 Albert L. Ortega
Danai Gurira is a playwright and actress best known up until very recently for her co-starring role in Tom McCarthy's imaginative indie The Visitor and work on David Simon's HBO drama Treme. But to the fanboys at Comic-Con, she's already The Walking Dead's iconic sword-wielding zombie slayer Michonne, a character seen for only a moment saving Laurie in last season's finale. After signing autographs with the cast, Gurira walked the convention floor with Vulture to talk about battling Atlanta's walkers (and ticks), Michonne's reliance on tart cherry pills, and getting Richard Jenkins onboard for it all. Fortunately, she heard our questions through the random outbursts of "Michonne!" that accompanied our stroll.
How are you holding up?
I'm loving this.
It's a little different from doing press for The Visitor, isn't it?
Uh, yeah, just a little.
And this is your first Comic-Con?
It is indeed my first Comic-Con. I watched it on Entourage, but TV can't quite capture what it is in person.
The fans were geeking out over you during the autograph signing. Your face hasn't even been in an episode yet.
I know. It's really kind of incredible. They're so excited and they loved that short introduction of Michonne in her hood last season. One lady said to me just now, "I'm sure you'll be the one on the show who really thinks." I thought that was very interesting. Yeah, I think that's true. I think Michonne is very sharp, her instincts are second to absolutely none. You want her in your corner because you will succeed in your attempt to do whatever it is you're trying to do.
You've filmed six episodes so far. How many walkers have you taken out?
I can't tell you!
More than a handful?
Well, yeah, you know. They're droppin' here and there.
You're walking this floor in heels. You've got the bling, the bare shoulder. Very un-Michonne-like.
I have to be Michonne a good number of hours every day, and it's nice to stand in some damn combat boots, you know? But every now and then — and I'm sorry to the fans — but a girl wants to put on something pretty and get her hair done.
Have you seen any cool fan art of you as Michonne yet?
Well, we were signing some comic covers and there was this one of a certain artist's design that was … I don't even know what Michonne was doing on it, but the things around her were perishing. Looked like me!
What are you excited to check out this weekend?
I want to see as much as I can. The costumes and the booths, it's such a cool celebration of graphic art and graphic novels. To see it inspire people to be creative and dress up is amazing. That's the thing about Michonne, to see her come to life for people is crazy. She's already alive to them. It's like I'm stepping into a living entity.

Do you feel more pressure surrounded by the super-fans here this weekend? Back there, it felt like they've already embraced you.
I don't know. I think there's some, "Prove yourself to us, lady." And I appreciate that. It's like, "alright, cool, cool. Let's do it. Where's my sword?"
Who've you bonded with in the cast so far?
Definitely my BFF Laurie Holden. We spend a lot of time together. We live in the same building. Steven Yeun and Lauren Cohan also live with us. We're dormies. They've really broken me in.
What's been the most challenging aspect of the role?
Initially, learning the sword was challenging. I started to take natural vitamins, tart cherry pills. Very good for the joints and the muscles. I didn't know if I was going to be able to do what Michonne has to do in 100 degree heat, but with those pills, I'm fine.
Cherry pills for everyone.
Seriously, I recommend them. And they're legal! Totally legal.
Besides the katanas, does she use any other weapons?
What more does she need? She's got chutzpah, or for want of a better word, balls.
Last year at Comic-Con, your dormie Steven told us a story about a tick landing on his crotch and doing its worst.
Oh yes. Constantly, I'm making sure there are no little ticks on me. He told me that story, too, my first day on set. One time, there was this one on my leg crawling upward, and I say to it, "Guess what? You're not going anywhere, buddy. It's the end of the road."
Are you going to get Richard Jenkins to watch The Walking Dead?
I love him. He supports my work so much. He came and watched my plays, he watched me do Shakespeare in the Park last year. He and his wife, they're amazing. He's definitely going to watch this show. Definitely. Doing The Visitor with him was the best experience.